11 top international ridesharing companies in 2019/2020
Which ridesharing companies are dominating in 2020? In this post, we take a look at the eleven top international apps.
Ridesharing is fast becoming one of the most popular methods of travel. Millions of people across the world use ridesharing apps every day, a trend which shows no signs of abating.
The global net revenue of the market leader, Uber, amounted to 11.3 billion from 2013 to 2018. Lyft, the next-closest competitor, made 2.16 billion from 2016 to 2018.
When you mention the phrase "ridesharing" most people instantly think of Uber. But there's a host of other ridesharing companies that run just as well, if not better, than the market leader, including many exciting success stories, like the Tirhal app in Sudan.
In this article, we're going to take a look at the top eleven.
Let's dive in.
What is ridesharing?
Rideshare companies enable travelers to match up with independent drivers at short notice.
By utilizing innovations like GPS and smartphones, ridesharing companies enable individuals to book cars at short notice.
Users log into an app, enter the location, and they'll see all the available rideshare drivers in the area.
Ridesharing is an incredibly simple concept (driven by not-so-simple technology) that has become hugely popular due to its practicality and potential to cut journey costs.
Peer-to-peer rideshare services like Lyft Line, which allow people to organize multiple-person trips with strangers, are also becoming popular because of the positive environmental impact and further savings.
What is a ridesharing company?
In a nutshell, ridesharing companies provide technology to organize trips via ridesharing. Apps are the method of choice for virtually all customers.
The undisputed market leader is Uber, with 87.6% market share in the US. But new players are quickly popping up. Lyft and Juno are well-known names. And a growing number of people use GoJek in Asia.
With all that in mind, let's take a look at the best companies currently operating: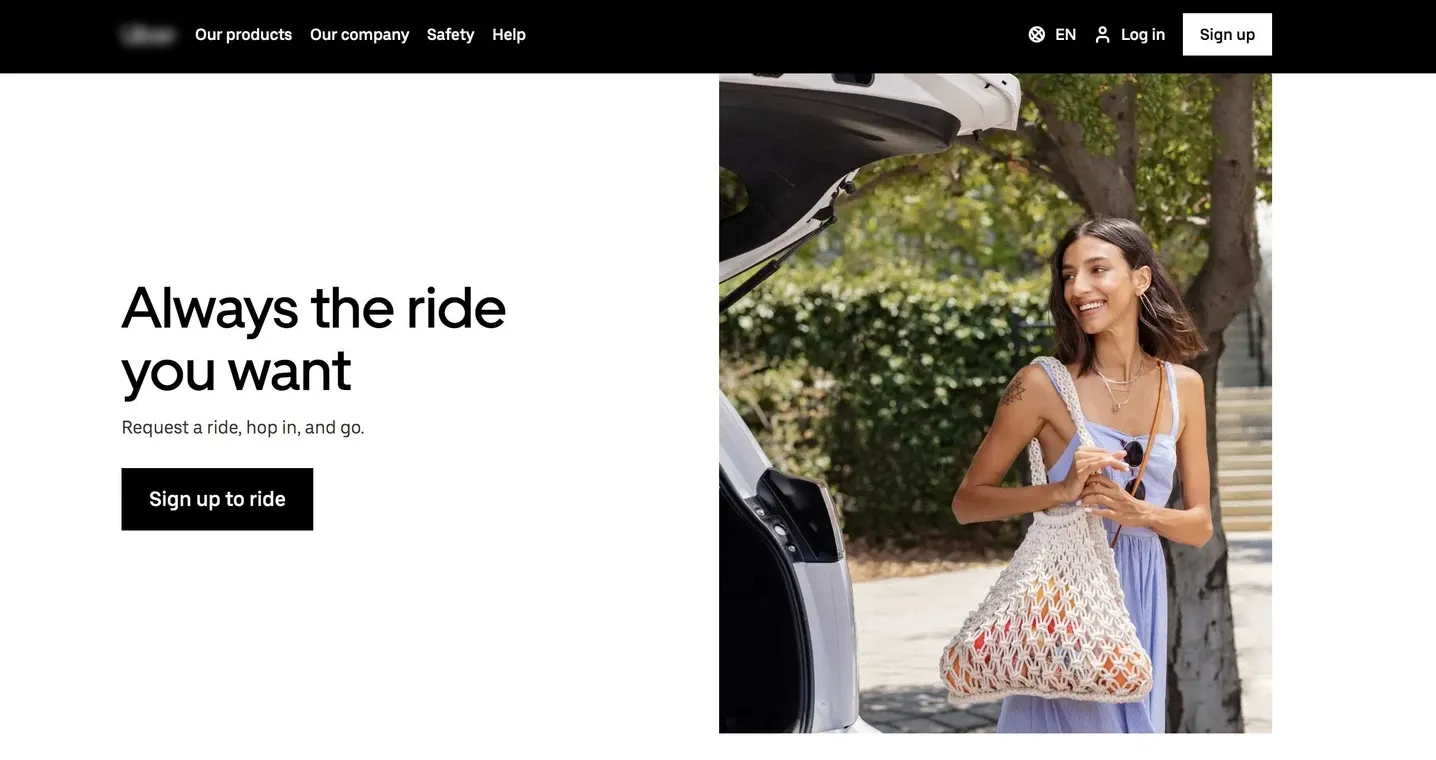 No list of top international companies would be complete without Uber, an American company that dominates the ridesharing market.
Uber offers a range of services, including private cars (UberX), peer-to-peer journeys (UberPool), luxury vehicles (Uber Black), and even food delivery (Uber Eats).
Uber's feature list basically set the template for all future ridesharing apps.
Main advantages:
Wide coverage with lots of drivers available;

Predetermined prices for routes (not metred);

Background checks on Uber drivers.
Main drawbacks:
Uber has received criticism for its safety practices;

Rides can be expensive at peak times.
Countries available: Uber operates in over 65 countries and over 600 cities. It's very popular in major cities in the United States like San Francisco, Austin, Boston, and Washington DC.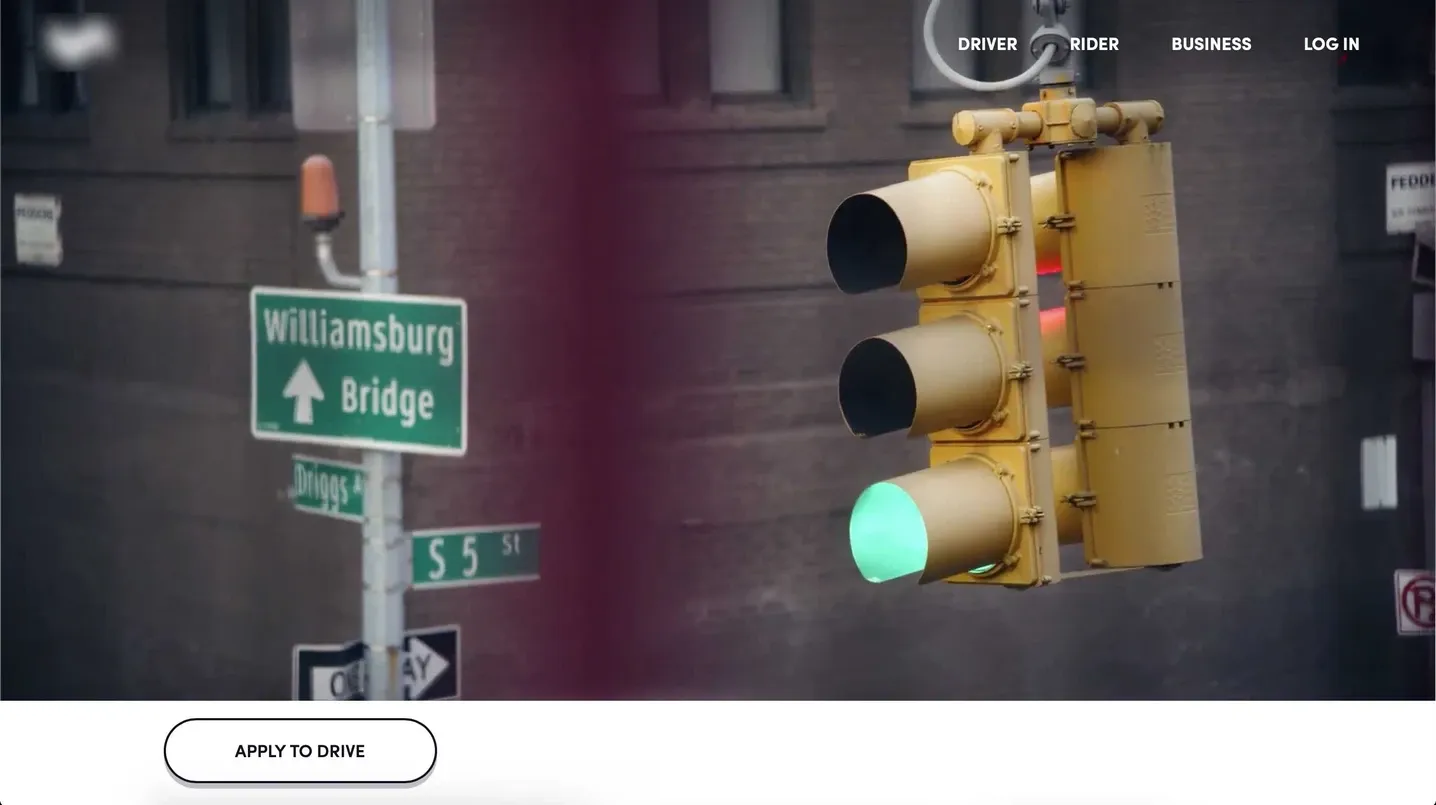 Lyft is Uber's main competitor and one of the largest worldwide ridesharing companies. Like Uber, Lyft offers peer-to-peer car rides (Lyft Line) along with luxury vehicles (Lyft Lux).
The Lyft app also lets riders make stops along their journey, such as if they want to grab a coffee. Users have also reported that the pricing structure works out to be cheaper than Uber during peak times.
Main advantages:
Lyft drivers all undergo background checks;

Lyft is known to be a friendly company with positive drivers;

Lyft has a reputation for looking after its drivers.
Main drawbacks:
Coverage is limited to the US and Canada.

Lyft has recently received criticism for letting standards slide.
Countries available: 640 US cities and 9 in Canada.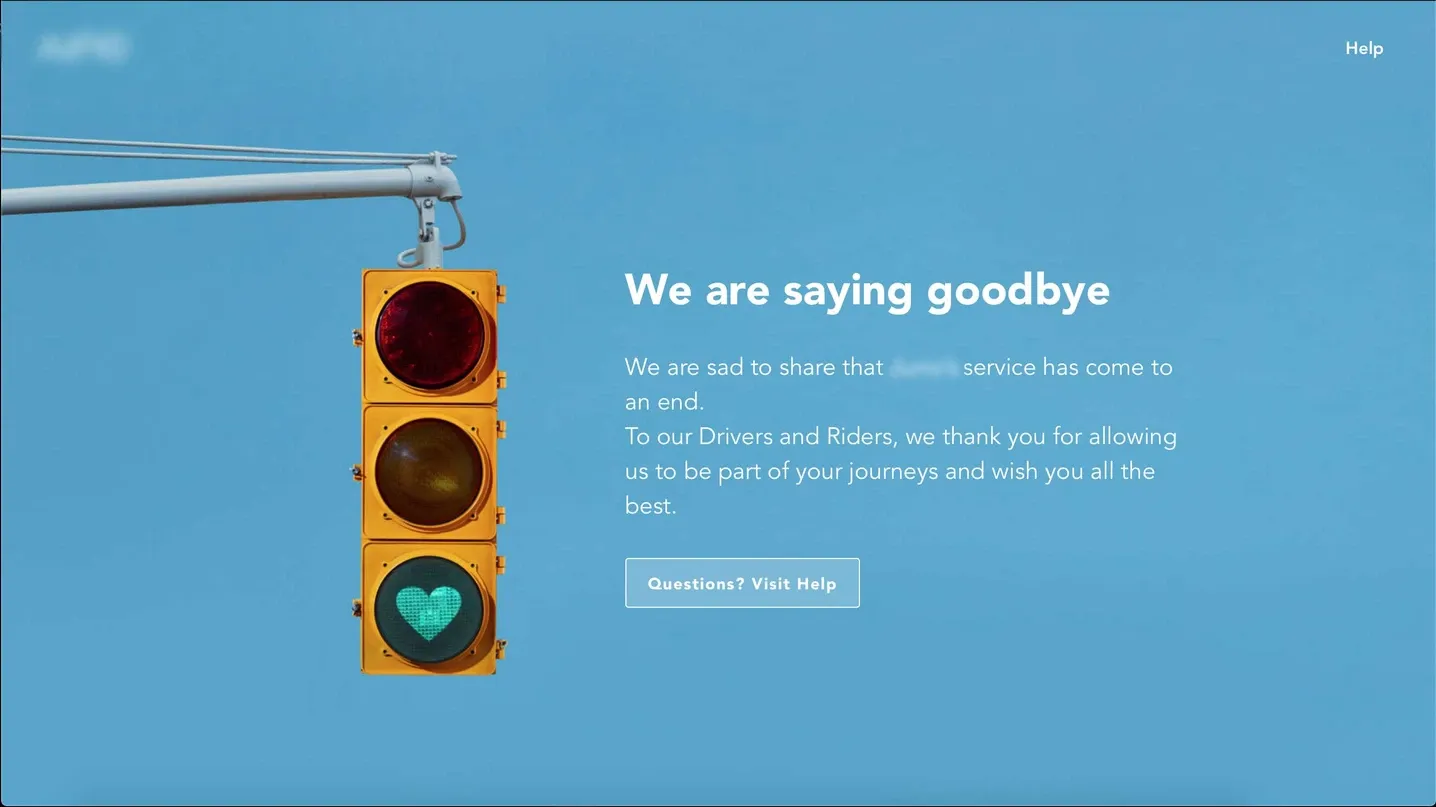 Juno, which was acquired by Gett in 2017, has a reputation for looking after its drivers. The company only takes 10% of fares, in comparison to 20% from Lyft and 30% from Uber.
Juno doesn't offer the same range of options and Uber or Lyft, but it is an excellent choice for people just looking for a standard ridesharing service in New York City.
In November, 2020 Juno announced that it went bankrupt and stopped operating.
Main advantages:
Excellent employee welfare practices;

24/7 support (via email, phone, and text) for both customers and drivers.
Main drawbacks:
Only available in New York City.
Countries available: New York City. Do not operate anymore.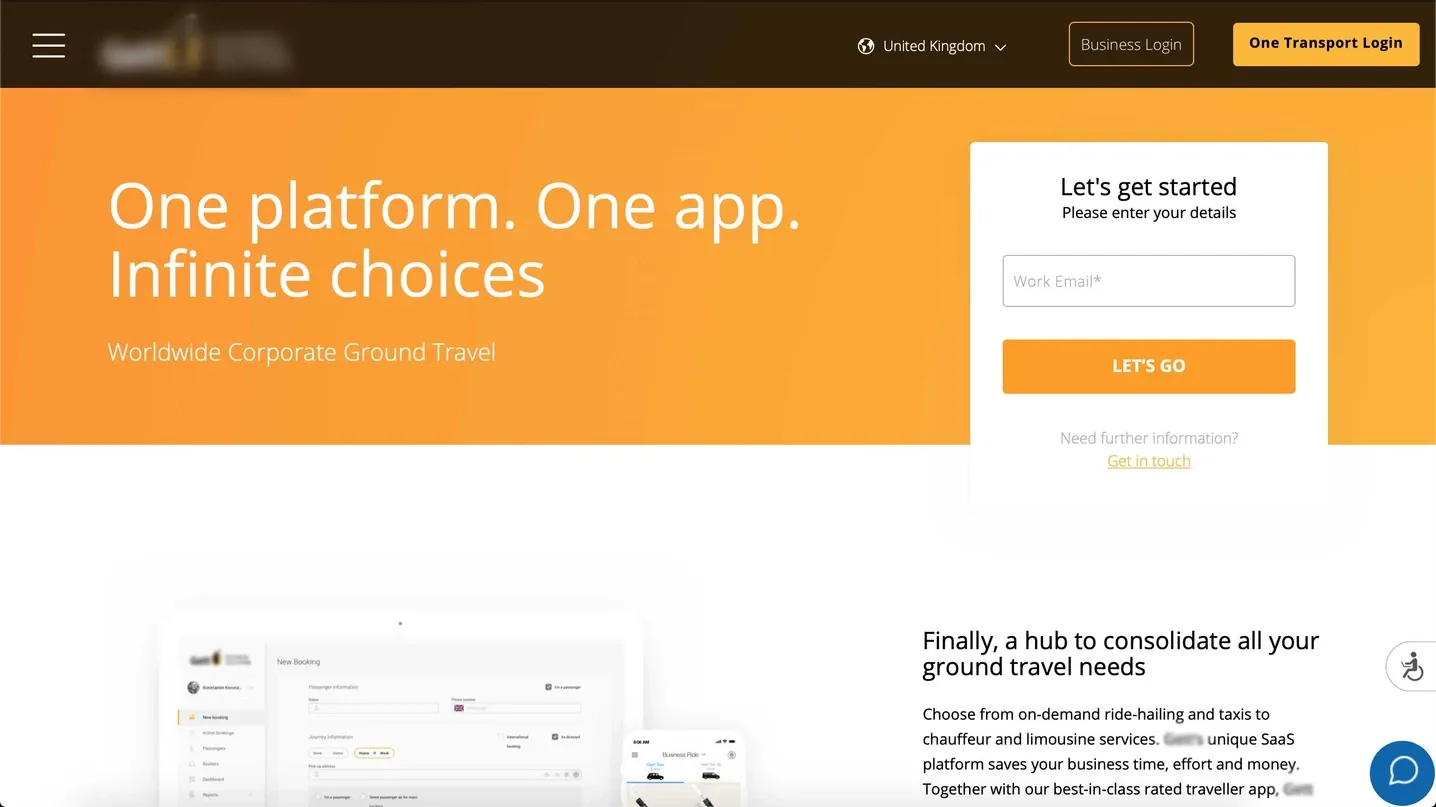 Gett is an Israeli company that has recently expanded across the world and focuses on the business market. The app can be used to hail taxis, chauffeur-driven cars, and limousines.
Gett has emerged as one of the leading services for business customers and commuters and has recently expanded to encompass over 1500 business centers across the world.
Main advantages:
Offers lower prices than Uber during peak times;

Get often works with existing taxis;

Useful for longer journeys like airport transfers.
Main drawbacks:
Coverage is somewhat limited for on-demand services and during peak times.
Countries available: Available in over 100 cities across Europe, UK, and Russia.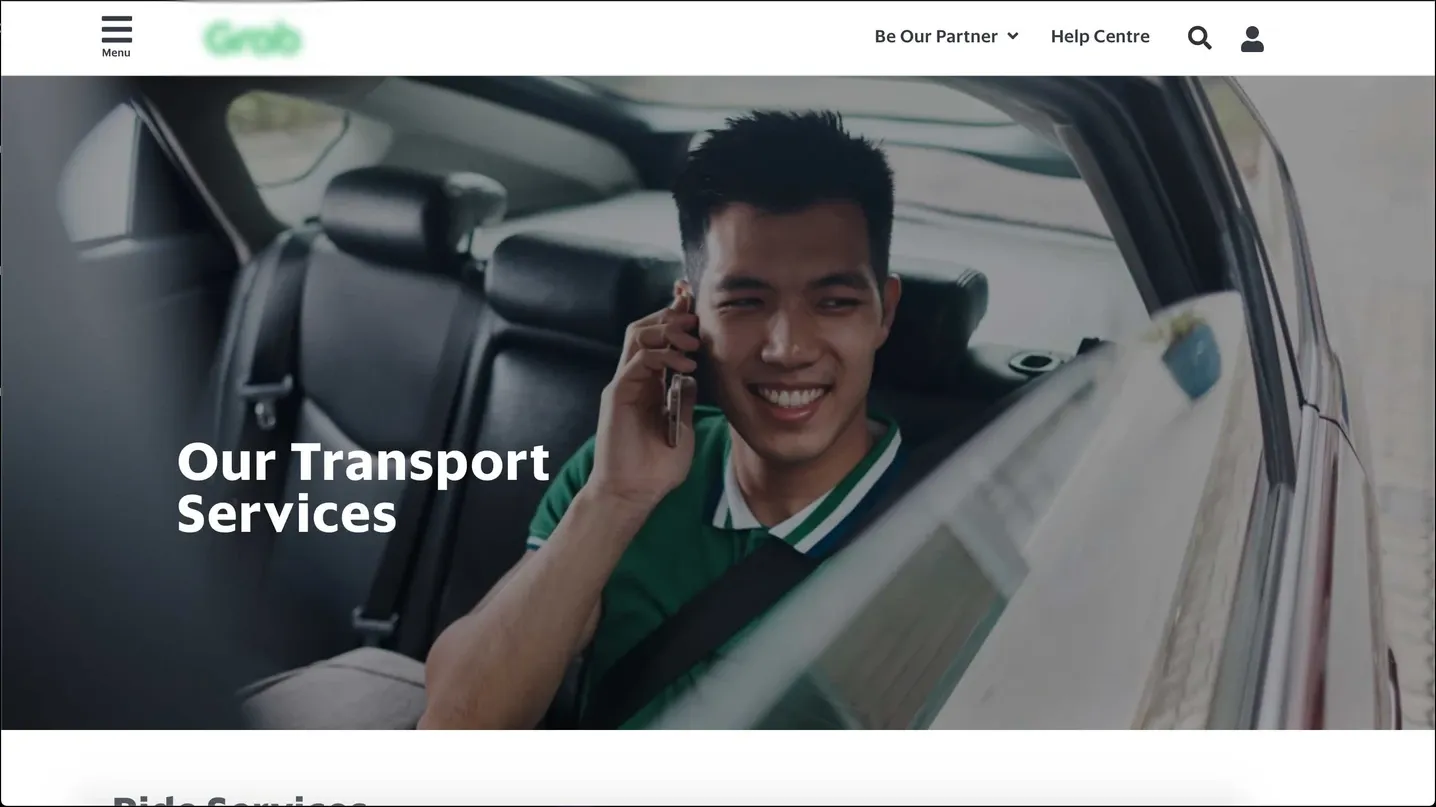 Grab is a household name in most Southeast Asian countries, along with Uber. The company differentiates itself from others in the ridesharing industry by offering a host of features and unique services through its app.
It possible for users to pick carpooling services with one or multiple passengers, for example. Family and pet-friendly options are also offered, along with rides on motorbikes. JustGrab, with which users can find a ride with one tap, is also a popular option.
Main advantages:
Multiple in-app options for different types of rides;

24/7 call center support;

Rewards scheme called GrabRewards. [Gr]
Main drawbacks:
Coverage is limited to Southeast Asia.
Countries available: Available in most Southeast Asian countries.
Bolt
(formerly Taxify)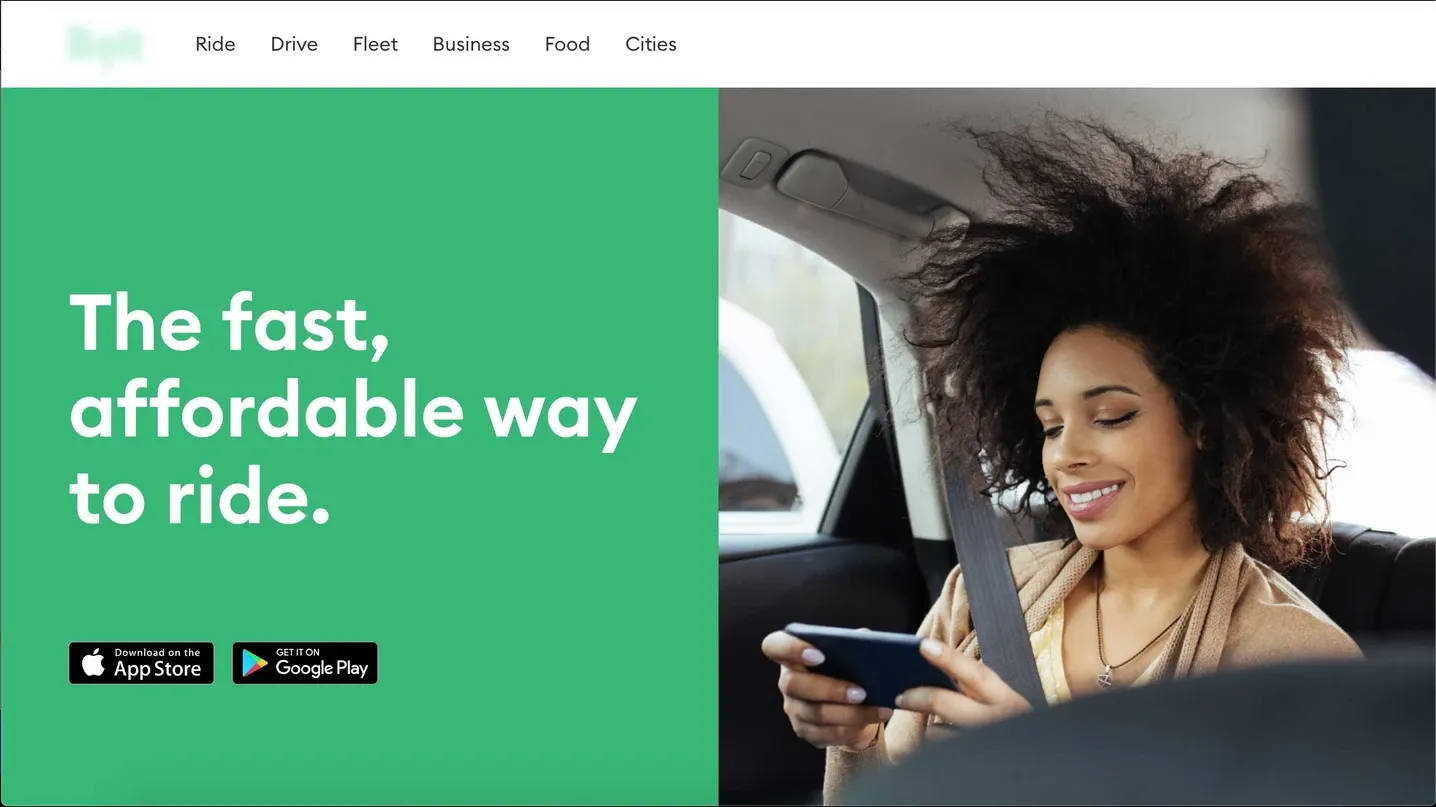 Bolt is a big competitor to Uber in Europe and is available in a wide array of European cities.
Bolt offers a number of benefits over other ridesharing apps, including carbon-neutral journeys, rewards and discounts, and good employee practices (the company takes 15% of the fare). Bolt food also offers food delivery.
Bolt is expanding into new markets worldwide, including Australia, Africa, and Asia, and is one to watch out for in the coming years.
Main advantages:
Simple add interface with good prices;

Carbon-neutral journeys.
Main drawbacks:
Mostly limited to Europe.
Countries available: Over 150 cities worldwide, mainly in Europe. No US coverage.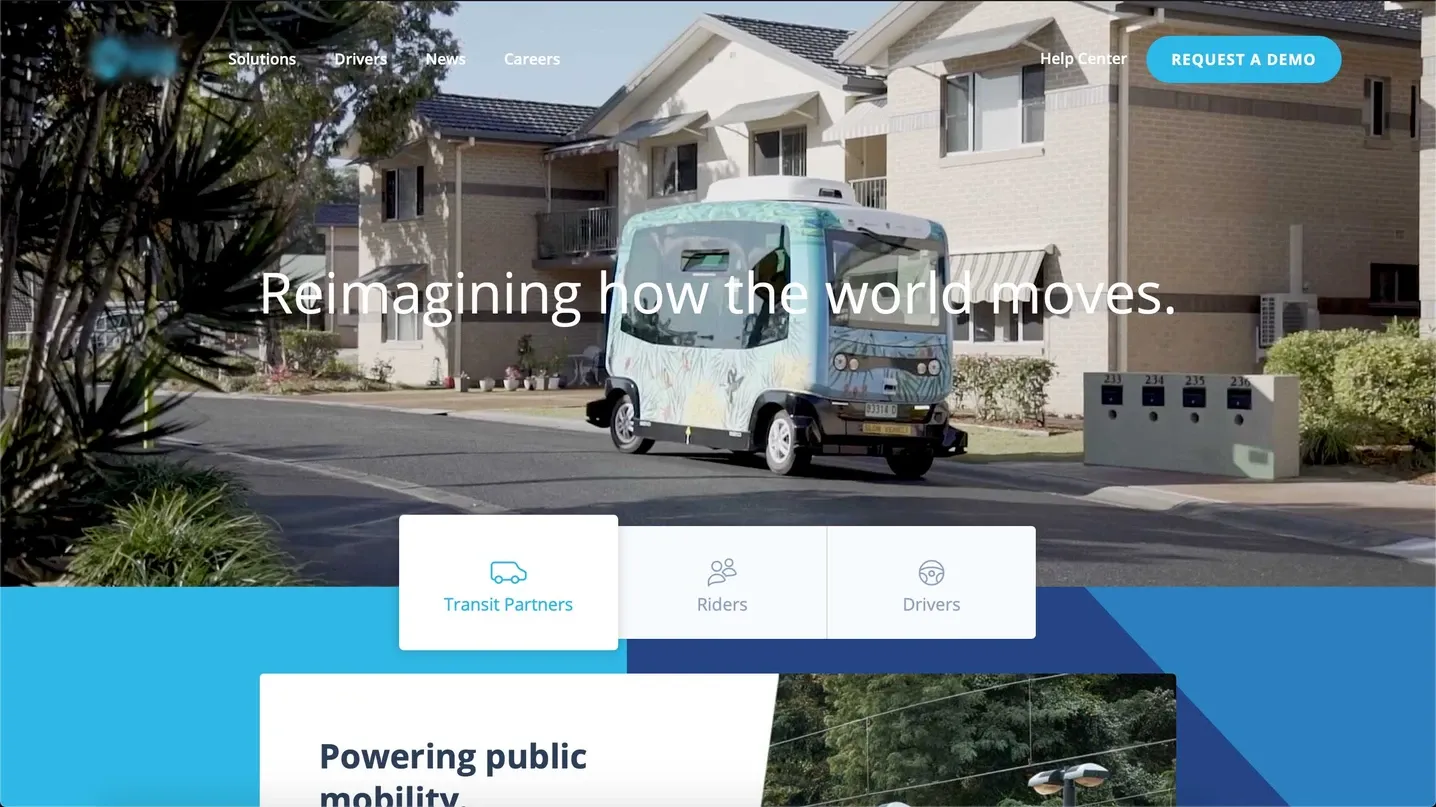 Via specializes in carpool rides, and many customers prefer the lower prices available. The app finds drivers with people that are taking a similar route to the user.
Many users are attracted to Via because it's one of the best services for carpooling on the market, offering significant cost savings and a reduced carbon footprint.
Main advantages:
Best choice for peer-to-peer ridesharing;

Lower cost than most alternatives;

24/7 real-time customer support.
Main drawbacks:
Limited service for private rides;

Only available in certain cities.
Countries available: Available in major cities in over twenty countries worldwide, including the US, UK, and Canada.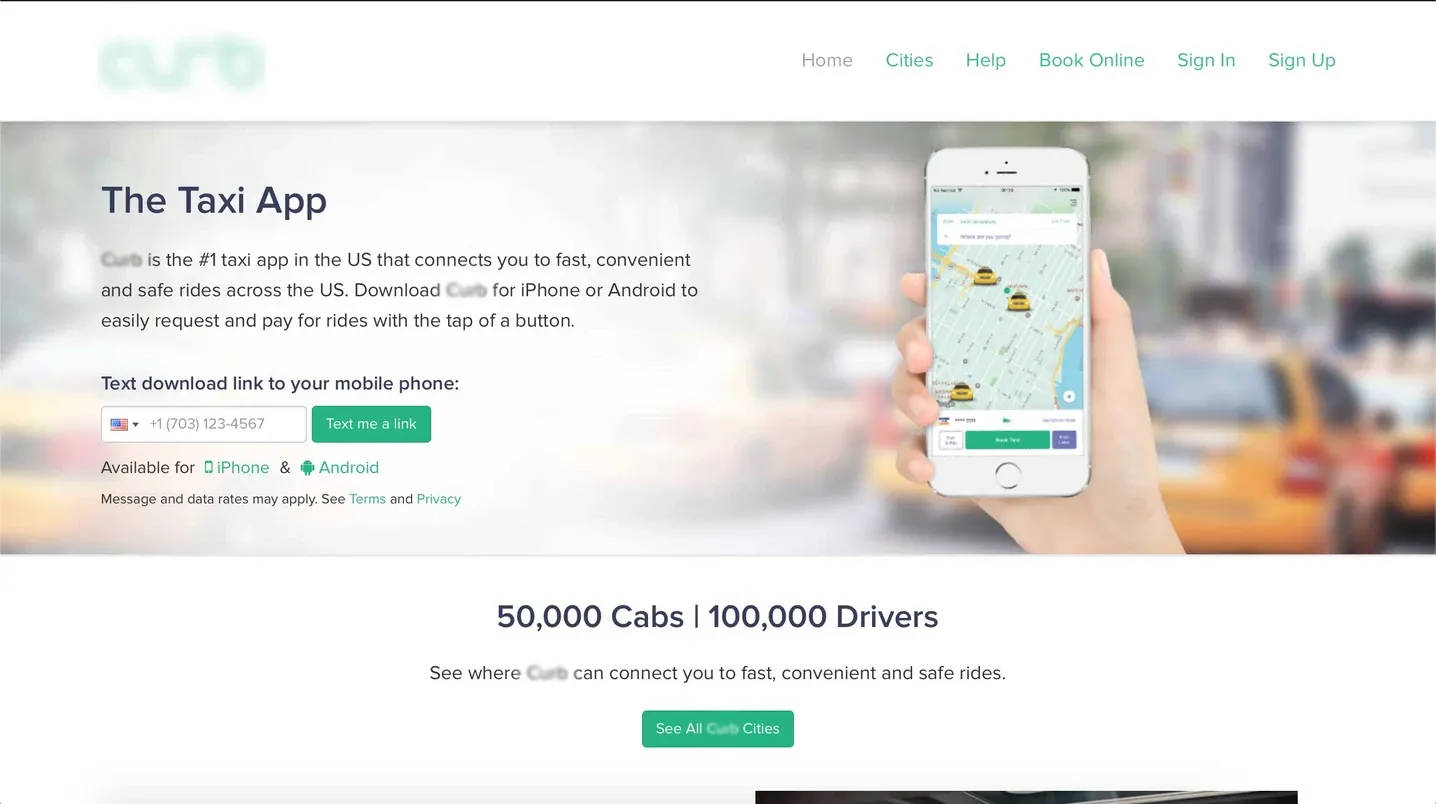 Curb brands itself as the "number one taxi app" in the US, and the fundamental idea is different from other ridesharing apps like Uber and Lyft.
Curb works with existing taxis and for-hire drivers, and it's possible to book journeys in advance.
Curb also operates a "Pair and Pay" system. Once a rider gets into a car they've hailed by hand, they can process the payment electronically for certain drivers.
Interestingly, the success of Curb demonstrates that the traditional taxi industry is far from dead. And many traditional "cabbies" are flocking to Curb in conjunction with opting for innovative taxi advertising ideas.
Main advantages:
Works with existing registered taxi drivers and for-hire drivers that are fully insured;

Possible to pay with cash as well as electronically.
Main drawbacks:
Some users have reported problems with the app.
Countries available: Major cities in the US.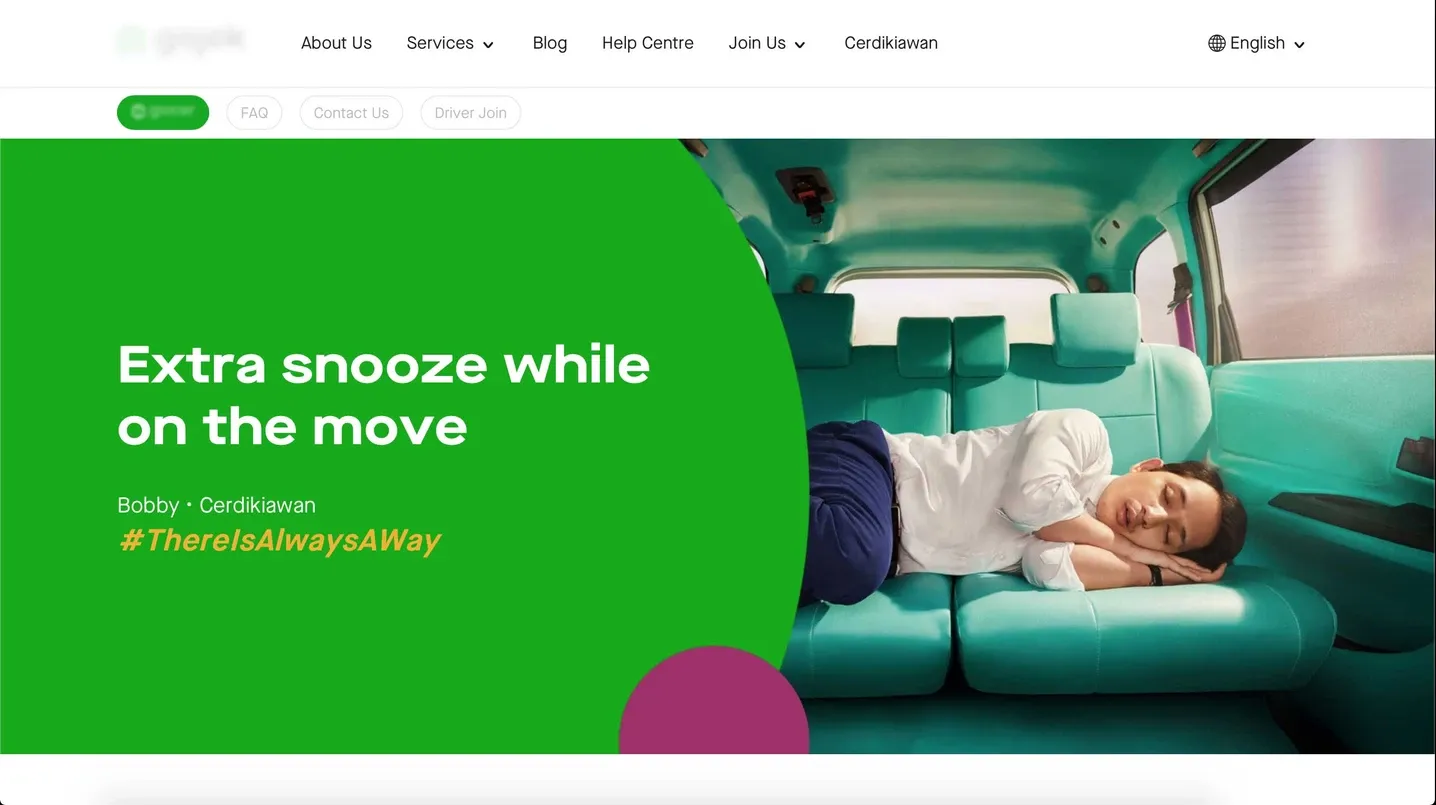 Gojek is Grab's main competitor. It is an Indonesian company and caters mainly to the Indonesian market, but is expanding quickly throughout Southeast Asia.
Gojek uses a similar booking process to Uber but also offers a handful of unique features. It's possible for passengers to edit their route mid-journey, for example. Users can also choose to travel on a bike (GoRide), which can cut travel costs. A courier service (GoSend) is also available.
Main advantages:
Scooters and cars are both available;

Straightforward booking process;

Range of services on offer, including couriers and vans for moving large items.
Main drawbacks:
App can be clunky at times.
Countries available: Indonesia, Vietnam, Singapore, Thailand, and Philippines
Cabify
(a Maxi Mobility company)
Cabify is a South American company that sets itself apart from competitors through its extensive and rigorous background checks for drivers, providing a superlative level of safety for passengers. One interesting feature of the app is the option to share geo-tracking with friends and relatives, so they know exactly where riders are.
Cabify Business also offers a range of services for businesses, such as employee travel plans and services for clients.
Main advantages:
High level of safety;

Straightforward and simple app interface.
Main drawbacks:
Only available in South American countries.
Countries available: Available in major cities in Argentina, Brazil, Chile, Colombia, Dominican Republic, Ecuador, Spain, Mexico, Panama, Peru, Portugal and Uruguay.
DiDi
or Didi Chuxing (formerly Didi Kuaidi)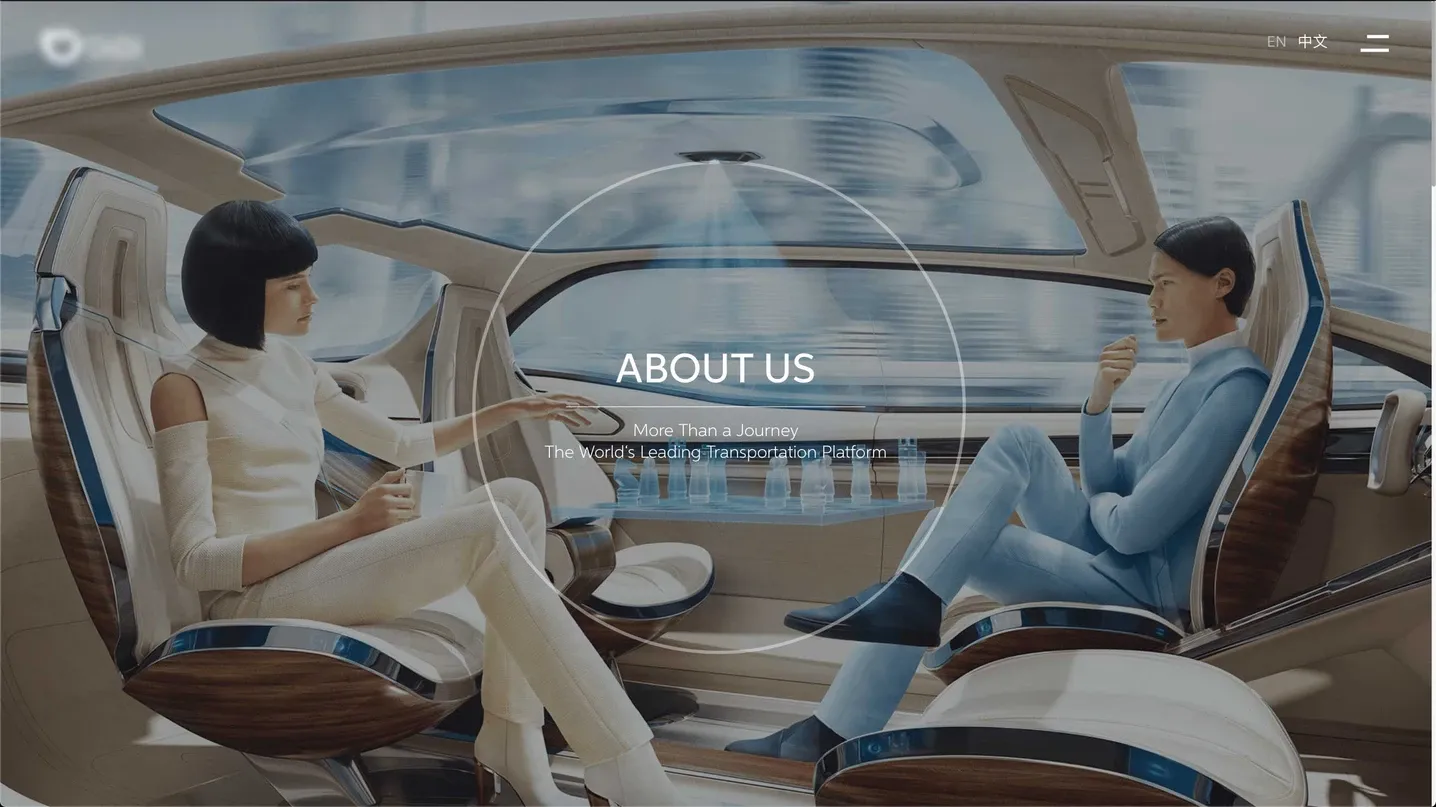 Where are all the Chinese companies? Don't worry, we've not left China out. DiDi, which has been called the "Uber of China", is a global app providing a range of services, including taxi hire, private driver hailing, peer-to-peer car sharing, and bike-sharing.
DiDi-Rider is the app through which passengers book rides and uses a similar interface to Uber. It is notable because of the inclusion of numerous safety features, including shareable geo-tracking.
Main advantages:
Simple interface;

Lots of safety features.
Main drawbacks:
Chinese version of the app can be difficult to use for visitors that don't speak English.
Countries available: Australia, Brazil, Chile, China, Colombia, Japan, and Mexico.
Conclusion
Phew! That's a lot to choose from! Here's one final piece of advice when navigating the world of ridesharing apps: don't be afraid of using the lesser-known, custom solutions.
It's easy to assume that the likes of Uber and Lyft offer the best service because they're so popular and have cemented themselves as part of the broader transportation network in many cities. But this isn't always the case. In fact, smaller, custom-made apps often offer a better package of services compared to the big players.
If you're thinking of developing a ridesharing app for your own business, whether you run a local taxi firm or a city-wide fleet of cars, check out this white label taxi app. It's an out-of-the-box solution that your existing customers can use to book a ride just like they would with a ride-hailing app like Uber or Lyft.
Bon voyage!
Disclaimer
Parties other than Onde may provide products, services, recommendations, or views on Onde's site ("Third Party Materials"). Onde is not responsible for examining or evaluating such Third Party Materials, and does not provide any warranties relating to the Third Party Materials. Links to such Third Party Materials are for your convenience and does not constitute an endorsement of such Third Party Materials.