The only case when the thunder is great for your business — the new Onde 0.28 release, full of great features!

Customer app
All the trips becoming optimal: price & route
When the trip is formed, Google (or any other map application) is always doing it's best to choose the optimal run. However, Google is just a robot, it doesn't care about the passenger's wallet. But we do! From now on, all the routes will be calculated to be optimal and the cheapest at the same time.
Save the money for candies 🍭(or anything else you love).
Artem Kulik, mobile development guru: "Making an app that cares about clients and about their wallets is the highest priority. Happy customer — happy life, you know?"
Operator app
To show nearby drivers or not? Your choice!
When you create an order, you always see the map with a pin. It automatically zooms the point where the nearest active drivers are. It's A-ok when they are really really close and there are not many of them...But what if there's a dozen of them?
Finding the order pin won't be that easy anymore...
We've got your back at this. With Thunder, we've added an option to stay zoomed on the pin and show nearby drivers only by request. 🔍🤓

Perform nearby places search
Perfect geocoding is essential, that's why we're striving to improve ours every day.
Now we can perform nearby interesting places via Operator app after clicking on Pickup Address or Dropoff Address fields (just like in Customer app) in case there is a point after Geocoding or Autocomplete operations.
Just start typing the exact address (or the approximate one), and the system will show you the nearest places of interest. Rather convenient, huh?
Leave the data for yourself
The speed of internet connection varies per country and region, and if the time for download needs to be saved — we save it. 😎 From now, the routes will not be sent every time. The dropoff pin stays displayed always, but the route to this pin is sent by request. Everything to save the time and make Operator app faster!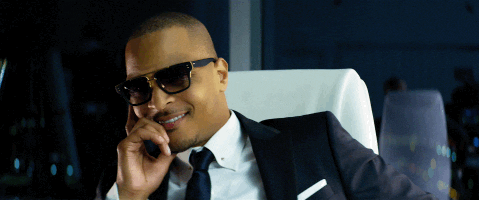 My hub
Get driver lists structured!
With Thunder, driver management becomes even more effective.
You can organize drivers into neat lists! This way, you can always filter your drivers not only by name and surname but also by vehicle type, plate number, balance, and status. Even more, the new feature allows the user to perform the same action on multiple drivers (suspend/delete/resume).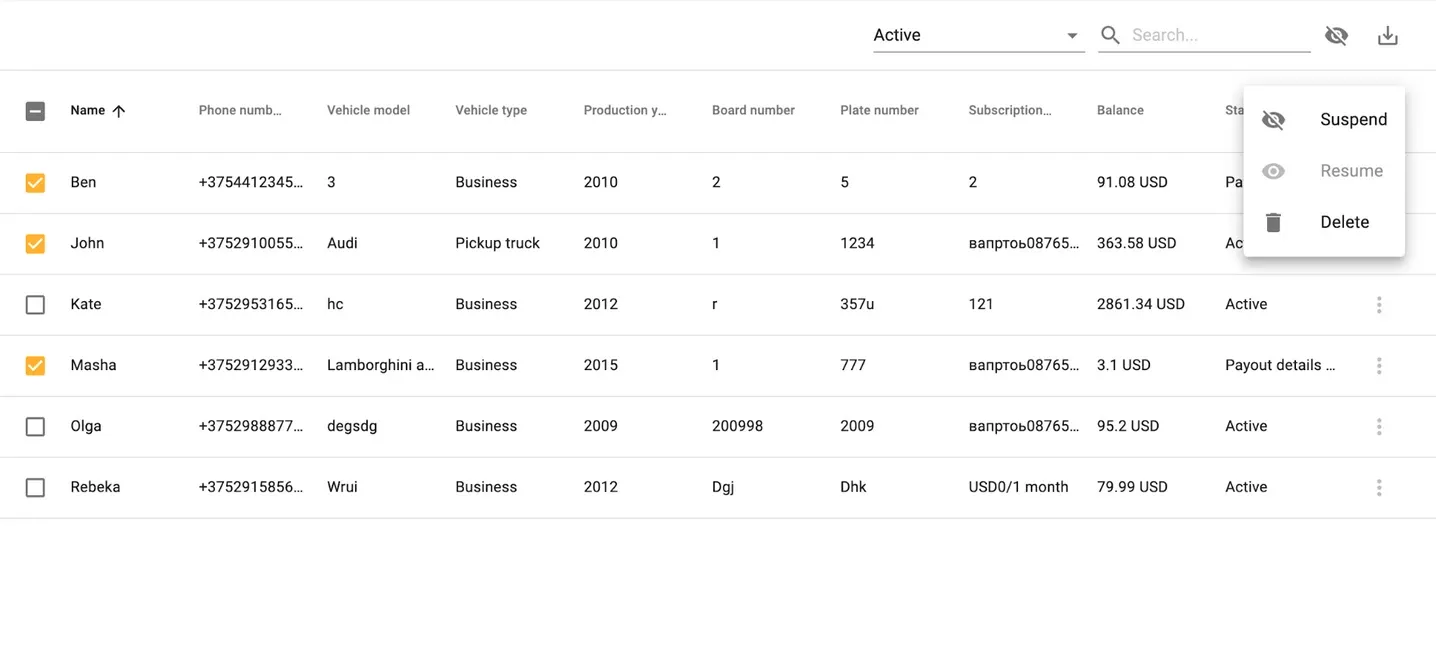 Manage your business when you're offline
Urge to check the reports all the time? No wonder — with the reports, you can see how your business performs. They help you make informed decisions on how to make it more successful.
So, what if we say you can work with the reports even while being offline? Amazing, yeah, we know. 🙃
Use the new "Export to csv" button to get offline access.
You can export all table rows into your reports. You can download and check all the pages whenever you need it. An extra cherry on this cake: you don't even need to be in the My hub to view the reports anymore.
You can download a report in tables:
1) drivers
2) driver transactions
3) dispatchers
4) billing history
Simply select the rows you need (or all of them) or choose all the visible columns.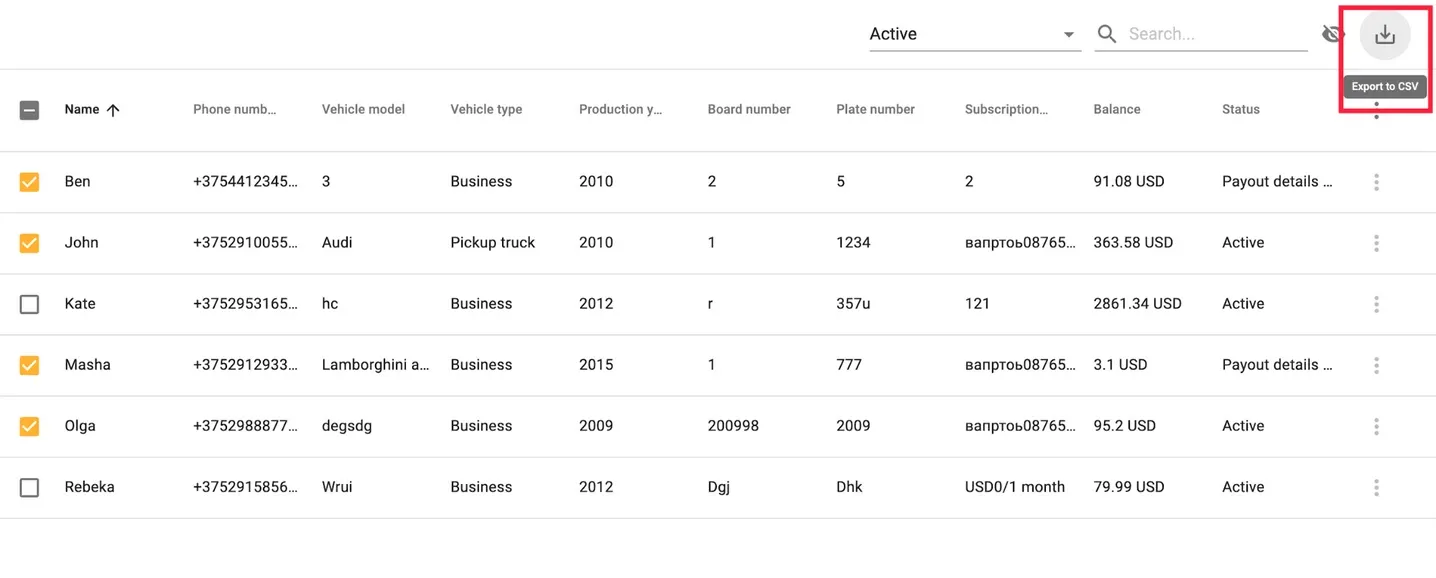 QR codes are back in town!
In the new My hub, QR codes function in a new way.
To open a QR code, go to the My hub and proceed to the "Applications and services" tab.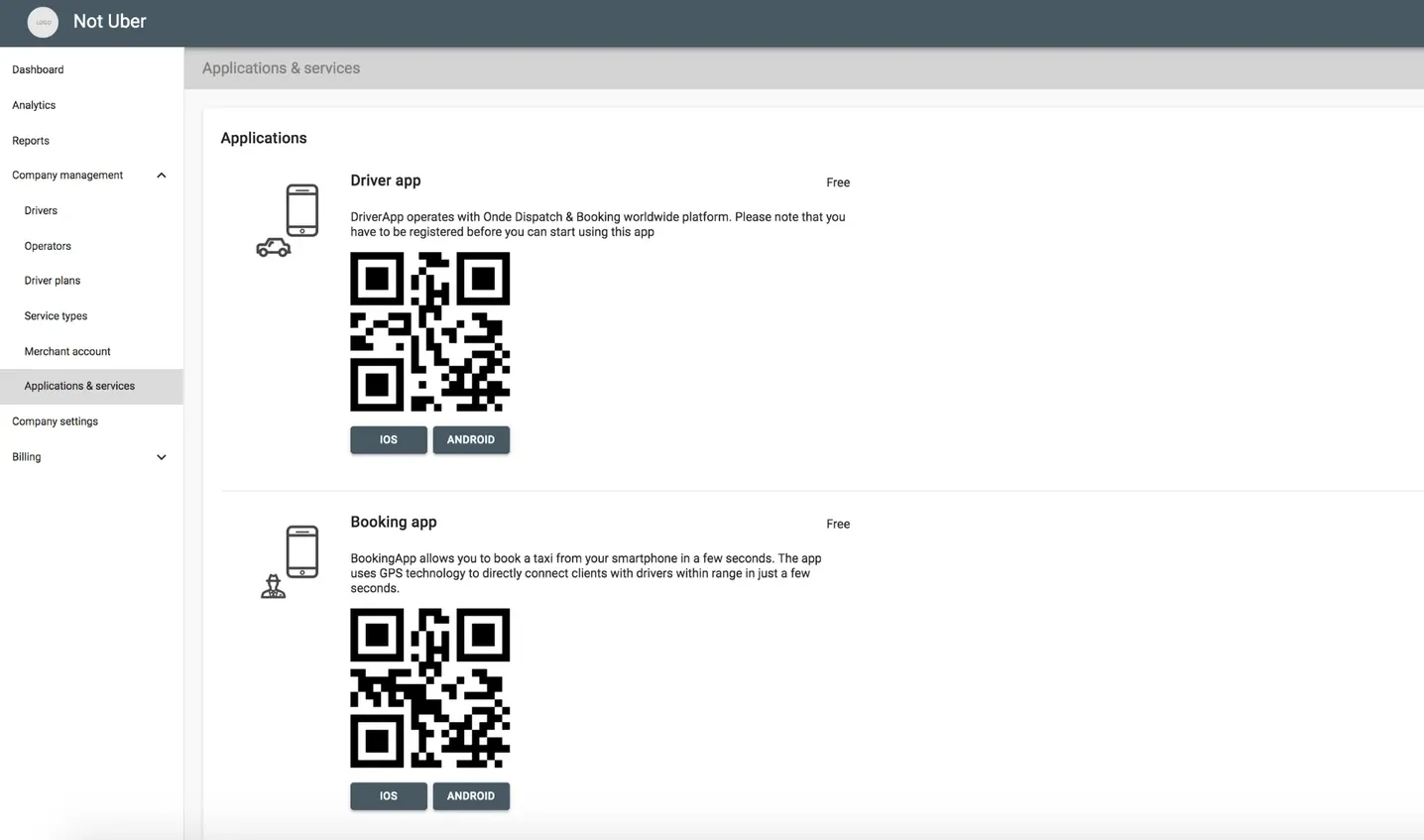 And more!
We've fixed all the little things that were not smooth enough yet. Now your experience with Onde system will be cooler than ever. Have a great ride with Thunder! 🤗
Summing up…
New powerful Onde release 0.28 Thunder is there to make our system even more convenient for everyone — dispatchers, managers, business owners, drivers, passengers.
Cheaper rides make your customers happier and make them order your cars more. Dispatchers can now create orders more accurately. Business owners get powerful tools to manage the business — CSV reports and structured driver plan reports.
Everyone is happy — so are we!