Grow your business with the new Onde Anthelion release
The new Onde Anthelion is better that you could even expect. New languages, operator app, Mu hub, driver management improvements, and the king of the new features — the multiple drop-offs. Check out, implement, and prosper!
Multiple drop-offs for customers and their friends
For operators
Build a multi-destination route for a driver? No problem😎
From now on, one driver can pick a group of people or items and deliver them to all the final destinations, seeing every of it as a separate point on the map.
Convenient for drivers and operators? Yes!
Profitable for your business? Yes, indeed!
For customers
After the Antheliin release, your customers won't have to call for 5 different cars to get home — the can share one!
They will be able to order a taxi and then just set a separate drop-off point for everyone.
Multiple drop-off feature is great from all sides:
— It will reduce hustle for the driver and customers in case of multiple destination points of the trip;
— The flag-down fee is taken only once;
— The fixed zones rate is calculated for all point-to-point route segments.
System improvements
Operator app: accidental switches are covered now
Let's agree, we're all humans. And sometimes we switch tabs accidentally.
The operators now are safe: whenever an operator starts to input order and switches to another tab/view, the operator app will keep input saved in order.
undefined
No need to open the City Map in separate browser tab or window — just switch it without losing all order details typed before.
My Hub: long lists of drivers load quickly now
Do you have thousands of drivers and tired of loading long lists?
We've got you covered!
Now lists of drivers in My Hub load quickly.
The company manager will be able to use various ways to sort the list of drivers and powerful full-text search to find the required driver in a fast and handy way.
An order canceled by the driver. What happens next?
Drivers cancel orders...It's not the end.
From now on, when the driver cancels an order for some reason, this order will be taken back to the list of active orders, and another driver will be able to pick it up shortly.
This feature works both for pre-orders and for ASAP orders.
Drivers should be careful with their decisions: if one canceled the order, he won't be able to accept it again until the customer creates a new order.
Cancellation policy made in the heavens
Fairness, flexibility, simplicity — these are the main principles for our new cancellation policy.
Customers and drivers can cancel the order because of thousands of reasons. But it's not the point. What really matters — is the arrival fact.
Now we have a new cancellation and fee rules to support more real-life cases.
New stages and rules for the cancellation conditions:
— Tunable "Free of fee time" or "Forgiveness time"(because, again, we are all humans and make mistakes);
— Tunable waiting time.
These rules are applicable to both asap and pre-orders.
Humanization of the cancellation policy as it is!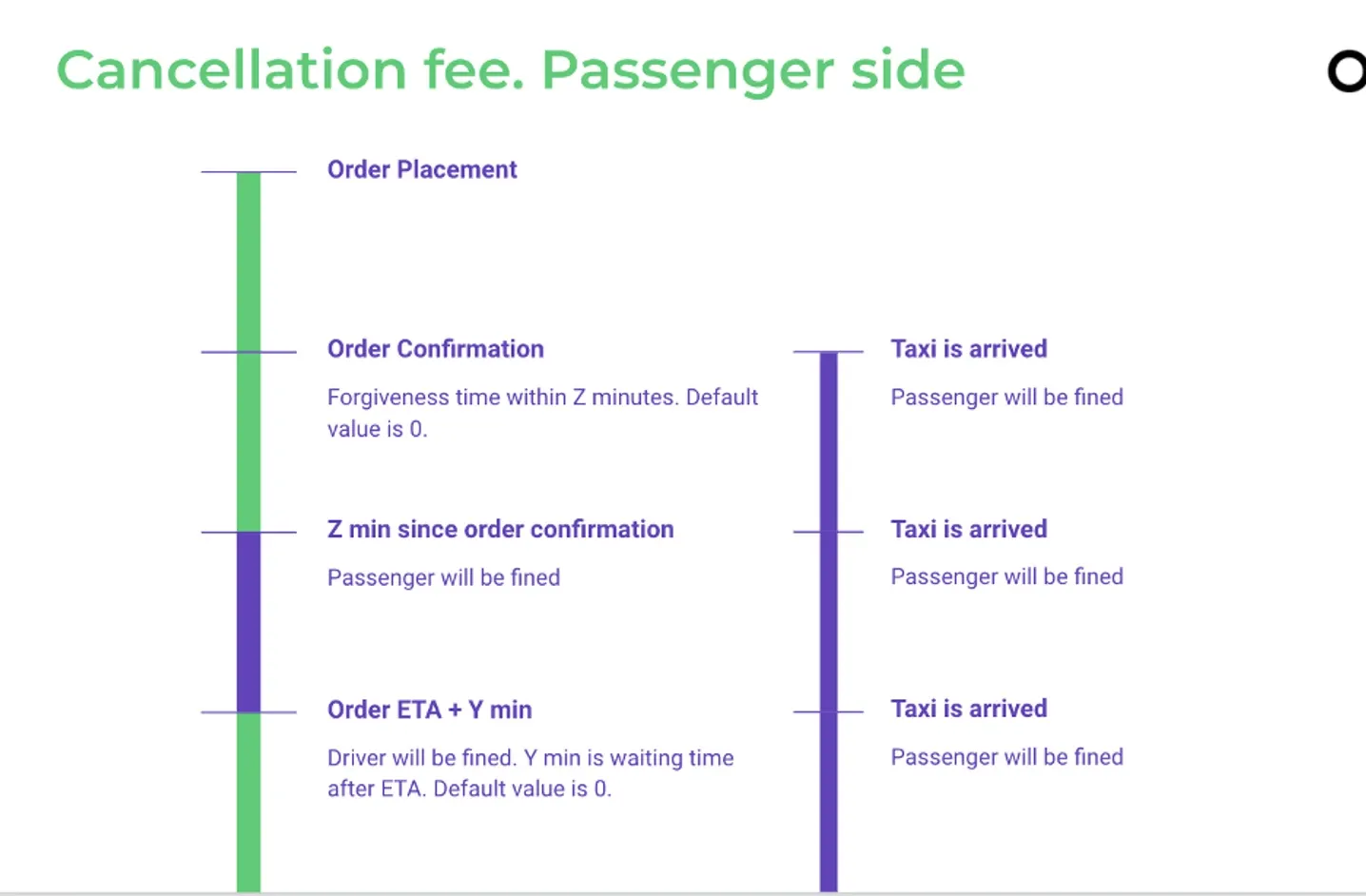 We speak three new languages now!
Goedendag, Helló, Labdien!
Our system speaks Dutch, Hungarian, and Latvian now.