Increase app installs and not lose your mind
Mobile app promotion requires serious lead generation marketing efforts. Optimizing your app is just one way to get more installs. But what are the other possible traffic sources for increasing app installs? We've collected the best ones for on-demand businesses.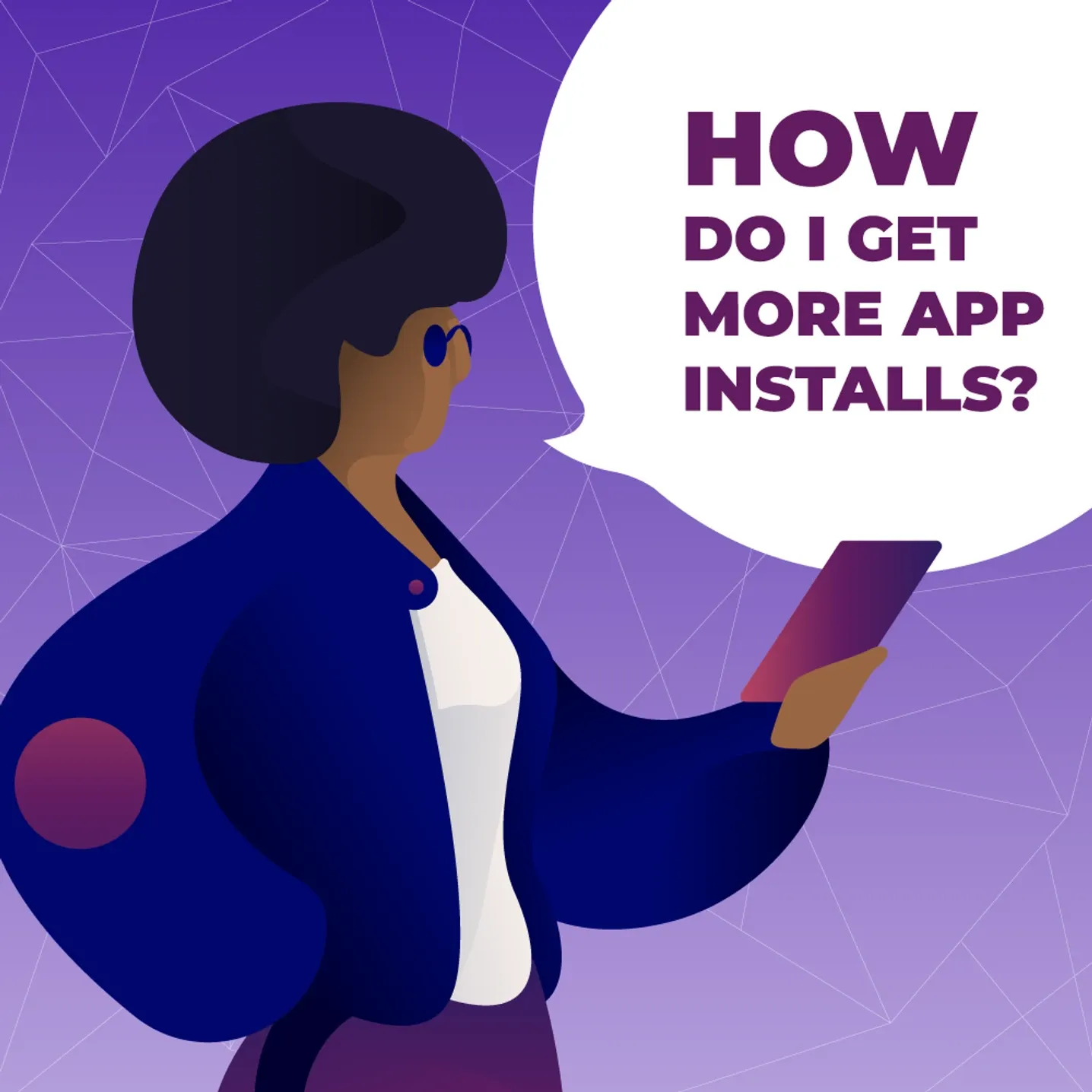 Increasing app installs is something every app owner strives for. Understanding how mobile app lead generation functions is a key to get this done.
69% apps are discovered and downloaded through Search tab. Accordingly, app store optimization (involving text and creatives optimization) is crucial for apps to increase installs.
Yet app store optimization is not the only thing one can do to increase app installs. Increase in app installs is usually a result of whole system of mobile user acquisition activities working harmoniously for an impressive result. We're going to see what are the necessary elements of a mobile app acquisition system.
Traffic sources for mobile app user acquisition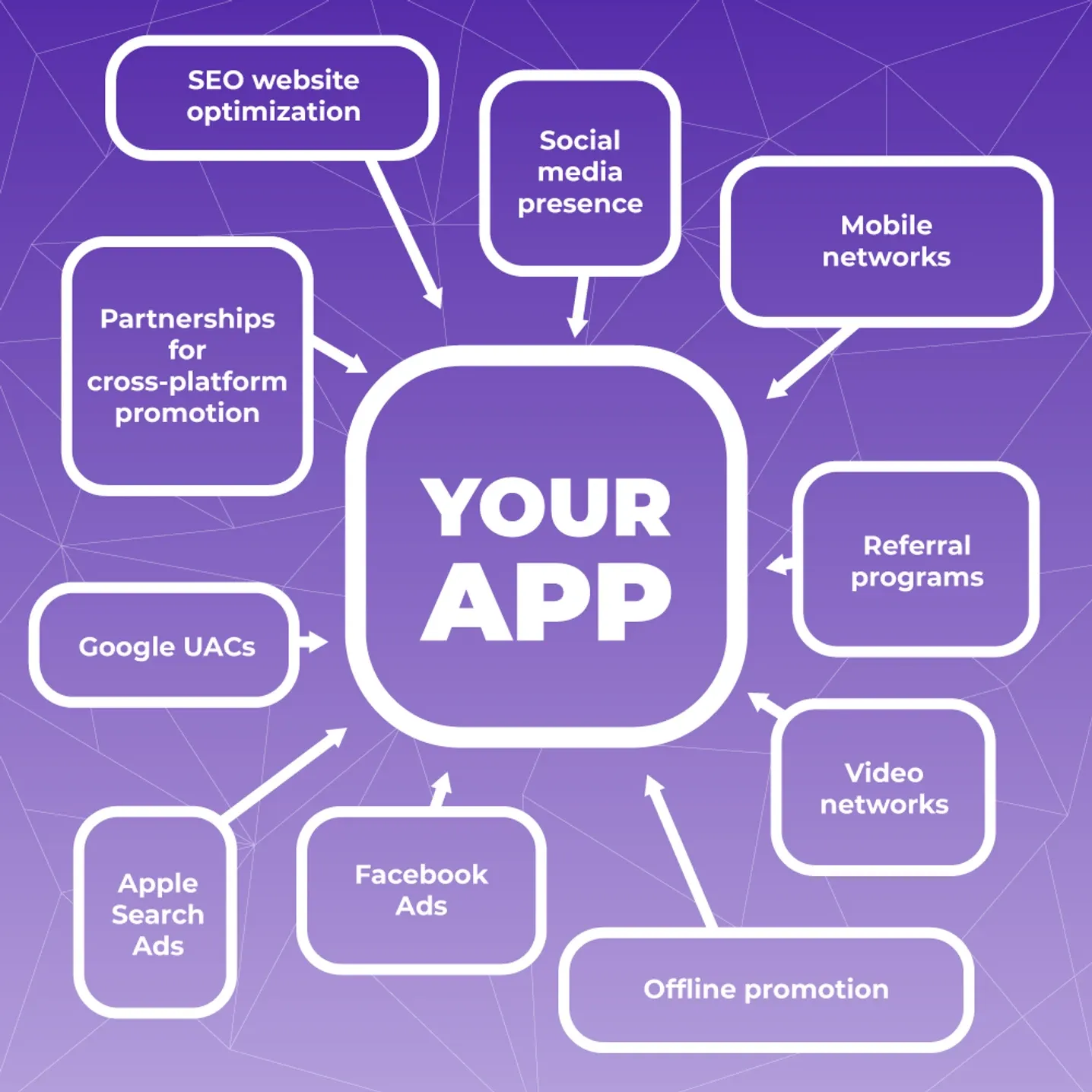 Universal App campaigns by Google Ads. An integrative tool powered by Google is extremely cool for optimizing mobile app promotion campaigns and maximize their effect on all Google-powered platforms (Google Search, Google Play, YouTube, Google Display Network). On Universal App campaigns, you set textual and visual assets appealing to your potential clients, place your bid, and the rest will be automatically optimized so that users could find the app🙌 Nice bonus: you get all the analytics of the ad campaigns and, accordingly, know exactly how much the app installs are growing since you use this lead generation marketing tool.
Search Ads by Apple. Similar to Google, Apple is providing the ads placement service for mobile app marketing campaigns. The platform is integrated with App Store Ads. In order to optimize your Search Ads campaign to a relevant app event (install, sign up, etc.) you will need to use a third-party service like AppsFlyer or Search Ads HQ. With Search Ads, you are able to set the preferable budget, optimize the keywords and prioritize them based on the real App Store data. Just as any other Apple product, Search Ads is a closed ecosystem: it does a lot of things, but nobody gets a glimpse of how it's done. By now, Search Ads is only available for Australia, Canada, New Zealand, Switzerland, UK, USA, France, Germany, Italy, Japan, Republic of Korea, Spain, and Mexico. Its outreach is growing gradually.
Facebook Ads. With tools such as Custom audience and Lookalike audience, Facebook Ads makes it possible to advertise your booking app to potentially interested people. Accordingly, it's a great source of new customers. A huge plus of Facebook Ads is that you can start working with it on any budget and then scale. Facebook Analytics is there to track the results of the marketing campaigns📊😎 You can use any relevant app event (install, sign up, booking etc.) as an optimization goal.
Website search engines optimization (SEO). Optimizing your website content for search engines (say Google or Yahoo) is a good way to gain more app installs. Creating useful content is a part of it: the more exciting content you create, the more engaged your clients will be.
Social media channels presence (Instagram, Snapchat, Twitter, and whatever else popular in your region). Social media company accounts help to form a loyal customer community, that's one. But they can also be a source of user acquisition for a relatively low price if you collaborate with the influencers, place ads and links for people to download the app in one tap😏
Video networks. Youtube, Vimeo, et cetera have a huge potential for app advertising. First of all, video is a hot content type in 2018. Next, it helps your SEO. What's more, it can get viral — despite it's really hard to get that far, getting viral can give a real boost to the app conversions. Plus, any video channel has a possibility for paid advertisements.
Mobile networks. Advertising within other apps is one of the cheapest ways to get more installs. The only problem here is that users are not targeted as precisely as with Facebook Ads, for example.
Partnerships for cross-platform promotion. Guest blogging, press releases, comments on forums, customer reviews, partnerships with other businesses. These are the ways to drive more app installs. Especially if you make sure these partnerships are with the companies relevant for your potential customers.
Referral programs. It is a fully-automated marketing engine that encourages existing customers to promote services to potentially interested new users. Your clients become referral holders: they recommend your services to people they know, and those can recommend it further. Result: downloads boost.
Offline promotion. Giveaways, printed materials, branded fleet, guerilla marketing — surprisingly enough, these can bring a plenty of app installs. Make sure you track the exact source of offline promotion. You can do so using promo-codes. This is needed in order to know which lead generation channels do bring the highest ROI.
Seems a lot of work? Well, no sweet without sweat: if you're still hoping to own a successful mobility app without marketing activities, better reconsider the whole idea.