Why you need a mobile application for drivers
The landscape of the taxi industry is changing rapidly. Back in the days, the hardware inside cabs was a nightmare. With a pair of manufacturers cornering the market, the terminals were bulky, difficult to install and maintain. When one of the terminals crashed, which happened frequently, the entire cab had to be temporarily taken off the road
Then appeared an idea to take all of that gear, toss it out the window, and move the entire thing to a driver application on a smartphone. The business gradually expanded to become an all-in-one operating system for dispatching cabs, tracking locations, and processing payments.
Story From The Driver
Kuala Lumpur, Malaysia
Every morning, Zamrud bin Teratai (58 years old) comes out of his garage wearing his red shirt and driving his white Toyota to test his luck for the day. He is just another taxi driver trying to make a living by fighting the crazy traffic, and taking commuters from point A to point B.
"There are days that I can actually make twice as much money than I used to before working only through the dispatcher".
However, Zamrud is not a regular driver. On average, he is able to have more passengers and make more money than most taxi drivers out there. But, what is his secret?
He uses a taxi driver application, which sends him jobs from the nearby passengers using the GPS system of his smartphone.
How to Start Building the Mobile Application
Building a mobile application requires a budget. App design and development can range from $10k for a basic app with 1-2 core features to over $50k for more complex apps that work across multiple platforms like iPhone and Android.
Quite often our clients come to us with the idea to create their own booking apps from scratch. They admit that it would cost them more but they would keep the ownership and the app will be done the way they want it. Usually, they come back. Need an explanation on why you shouldn't develop a ride booking app for yourself? Most people don't realize that an app is only a customer facing tip of an iceberg.
App development range from $10k for 1-2 core features to $50k+ for multiple platforms
How Much does the Driver App Cost?
There is a tool to help you calculate the cost of your mobile app. Try it now! It takes less than a minute.
If the budget to build a mobile app isn't in your range, there is another way to distribute orders to your drivers automatically – white label mobile application ready to work out of the box.
Branded Driver Application From Onde
Your branded driver application for both platforms iOS & Android will be ready in 14 working days. Our in-house designers will create: – unique app icon; – appealing splash screen; – branded screenshots.
We also submit the applications to Google Play and App Store with the optimized descriptions, titles, keywords, and URL leading to your website. What is more, the app interface will be in your local language. Now you are ready to connect your passengers and drivers via white label taxi app!
Read on to find a special offer for developing your branded driver app!
Benefits for Company Owner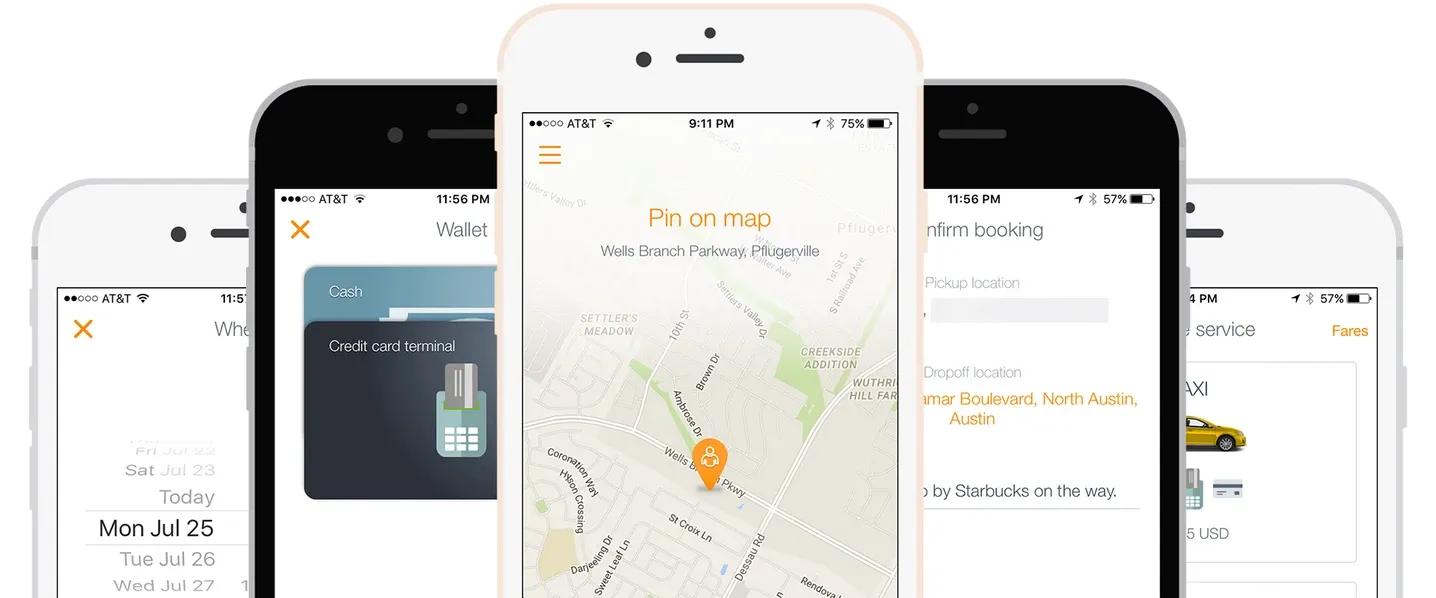 Modern GPS technology
You can monitor all your cabs in real time right from the operator app and see who is working or not.
Automation tool
The more customers are using smartphones to order a taxi, the less work is there for you, as a dispatcher. Thus you can plan on growing your business without the need to hire more staff.
Brand awareness

Having your own branded app will raise your company's brand awareness and recognition. Request your branded apps now!
Drivers loyalty
The drivers are one of the key factors for your company success. They are more likely to keep to a progressive company with its own brand and its own corporate culture. Here is the proof.
Benefits for Drivers
Additional channel of income In addition to the manually set up orders in the operator app, taxi drivers receive a constant flow of app bookings. Thus, it gives more work and profit.
Time-saving
The drivers don't have to scan the streets and watch out for anyone. They just pick up fare requests from customers right on their mobile phones without any time loss.
Customer's exact pick-up location and optimized route The system will guide the driver with the help of Google maps, and he won't have to worry searching for it or asking the customer to show the way. Moreover, the system calculates the best optimal route for you which means less gas consumption.
Keeps all drivers engaged
Onde system distributes jobs in a fair way between all the drives. To simplify, we form a queue of all drivers within 5 minutes reach to the customer, based on driver's waiting time, distance and rating.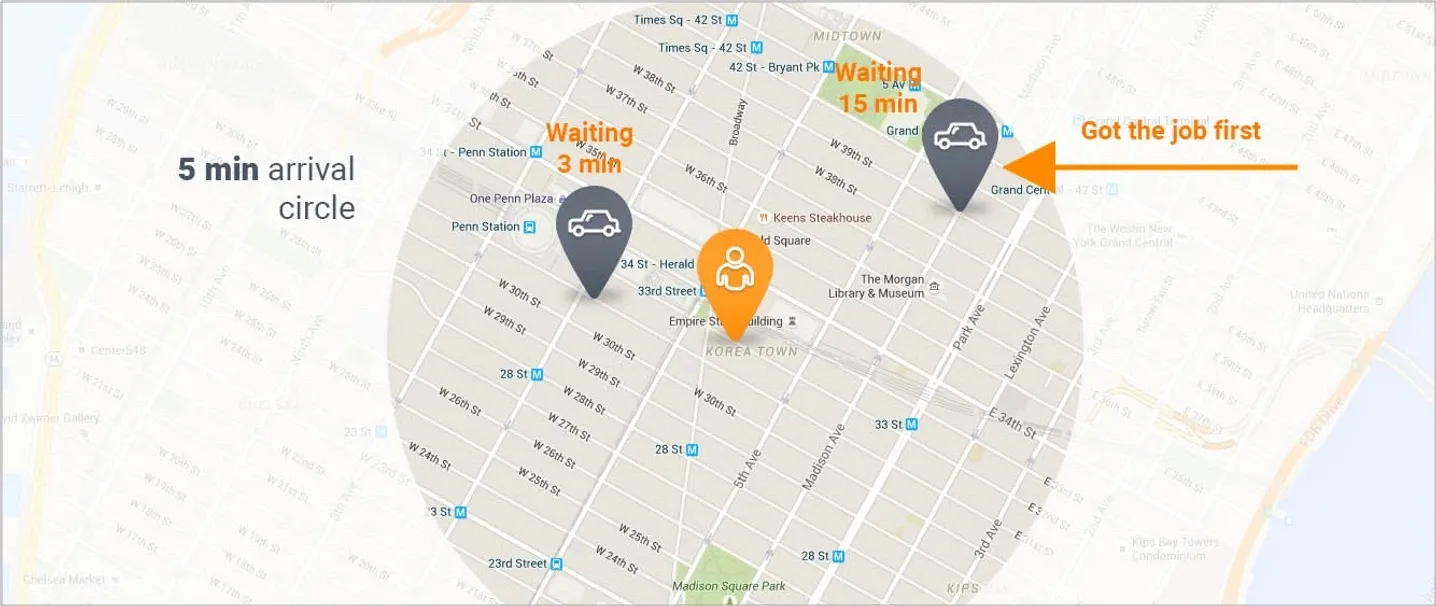 This keeps all drivers engaged, not only those who are lucky. Additionally, it solves the case when drivers are standing in line. Now they will get jobs one by one. And another great reason is that it motivates drivers to accept jobs, since if they don't – the waiting time is reset to 0.
Security
As the transaction via the app is more often cashless, a driver won't worry about unpaid fares and need to carry any sizeable amount of cash that might entice a robber.
Automated driver's billing
Onde offers an integrated automated driver billing system. What it does is basically allows you to automate your relationship with a driver in a form of monthly, weekly or per-job payments. Our system will calculate and prepare all the data for the payouts to the driver's bank account. The company owner can send this calculation to the bank or save it to make cash payments.
Corporate culture
The driver will see the company's logo on a greeting screen.
Ability to review the riders
Drivers can rate a customer which is helpful in case of misbehaving. Also, it is good for the drivers to let them know their opinion matters.