Drive app installs with Snapchat influencers
Snapchat is extremely popular among young audiences. It is also known as a very personal, "fair" social network, drawing loyal customers to those who advertise with it. Plus, Snapchat has perfect native tools for mobile app promotion and app install campaigns. In this post, we share the insights into mastering Snapchat influencer marketing.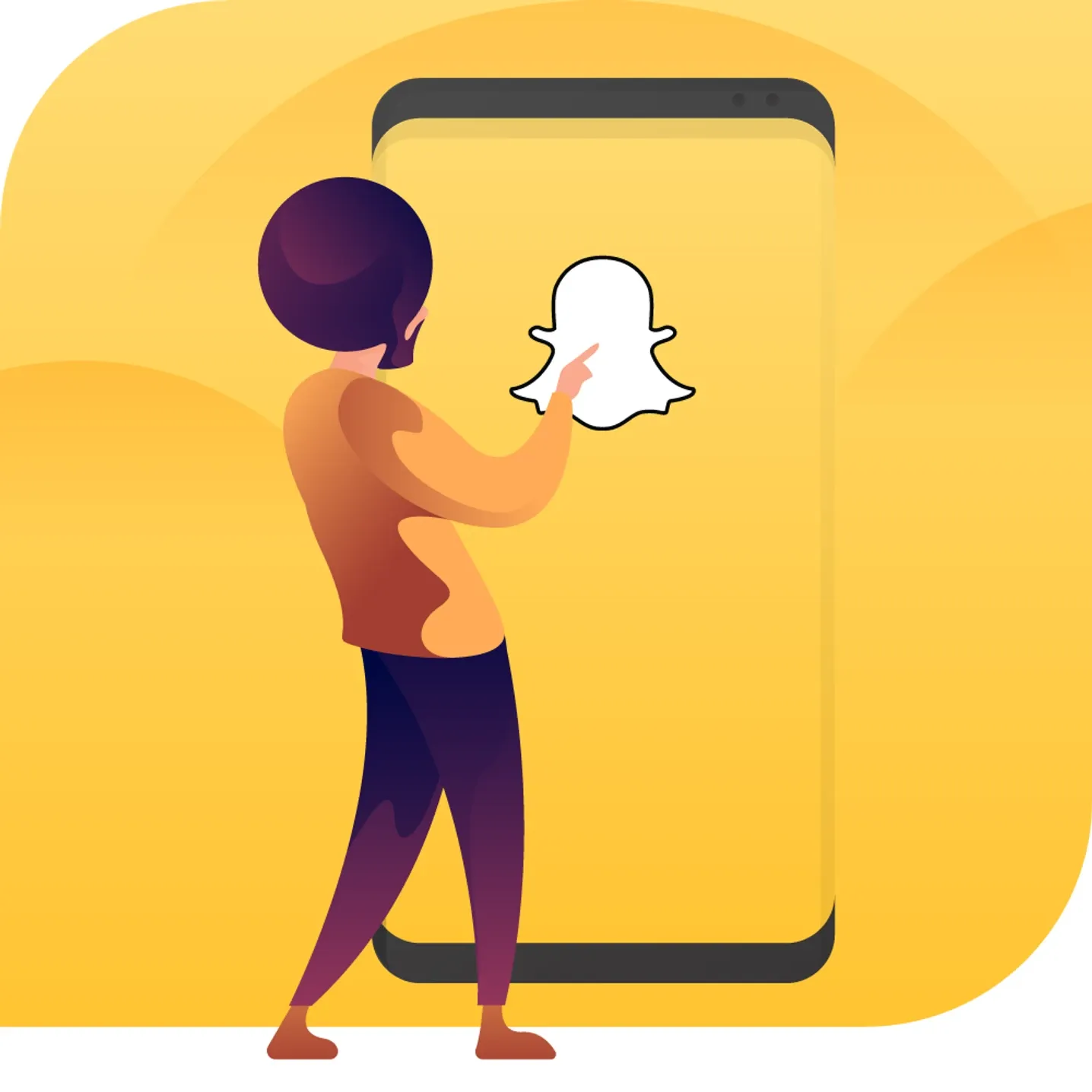 In 2018, Snapchat is considered one of the "fairest" social networks. Working as a live-video-streaming channel, it attracts especially young users who are looking for real, trustworthy content.
Due to a very specific format (short videos only available for watching for a rather short timespan), Snapchat stays pretty unsaturated by brands. At the same time, this network has a strong influencers community, powerful native tools for advertising, and a uniquely engaged audience. All in all, Snapchat influencer marketing is a perfect tool for young app-based companies to promote.
Learn to know Snapchat audience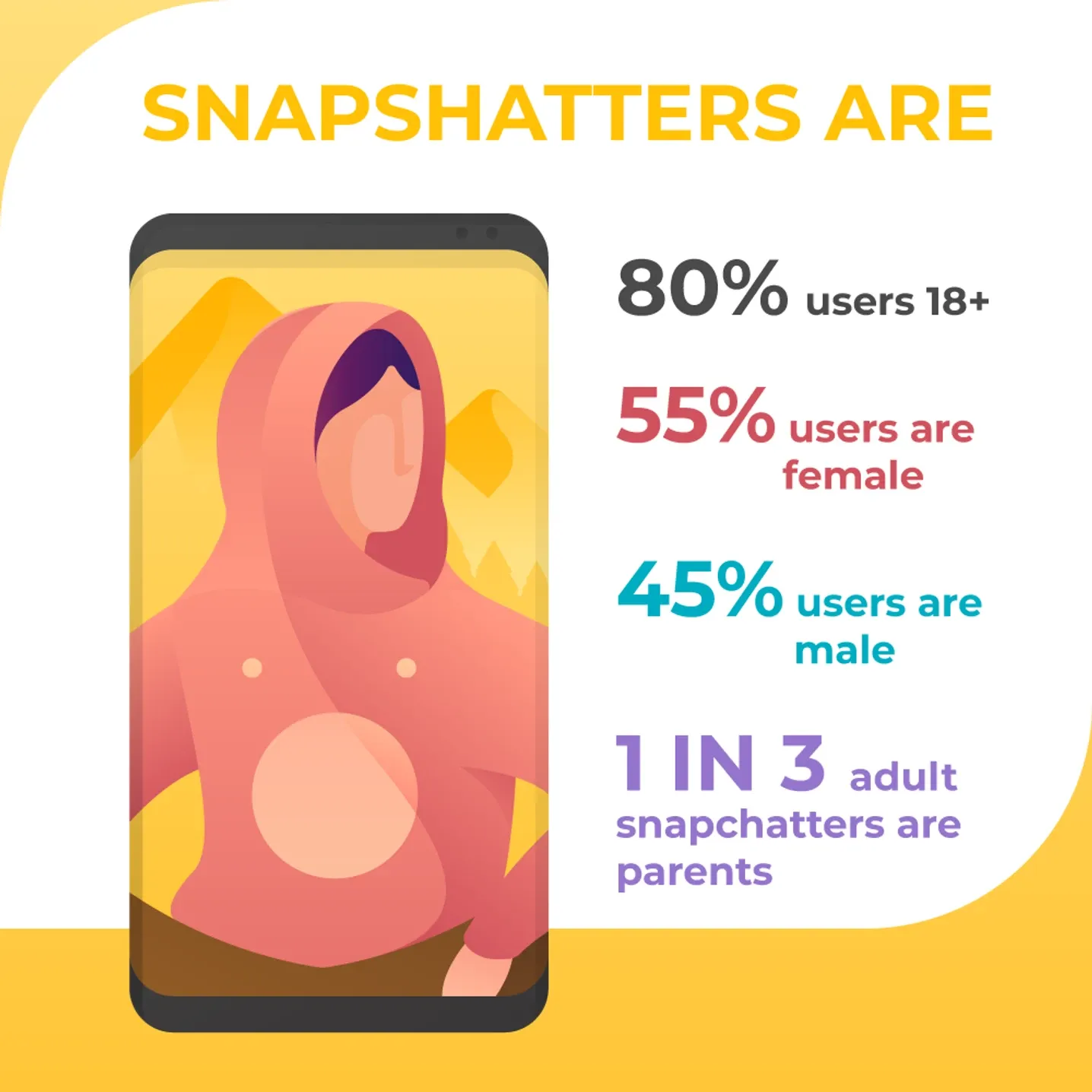 The main tool of Snapchat is the frontal camera of a smartphone. Most of the content are the "talking-head" videos — people telling their real-life stories or showing stuff happening to them. Because of this format, Snapchat is a very personal platform where influencers have a lot of... well, influence.
The users of Snapchat are often the people you won't so easily find on any other social media platform. If you want to target a marketing campaign for young people and drive app installs specifically from them, Snapchat is the ultimate solution.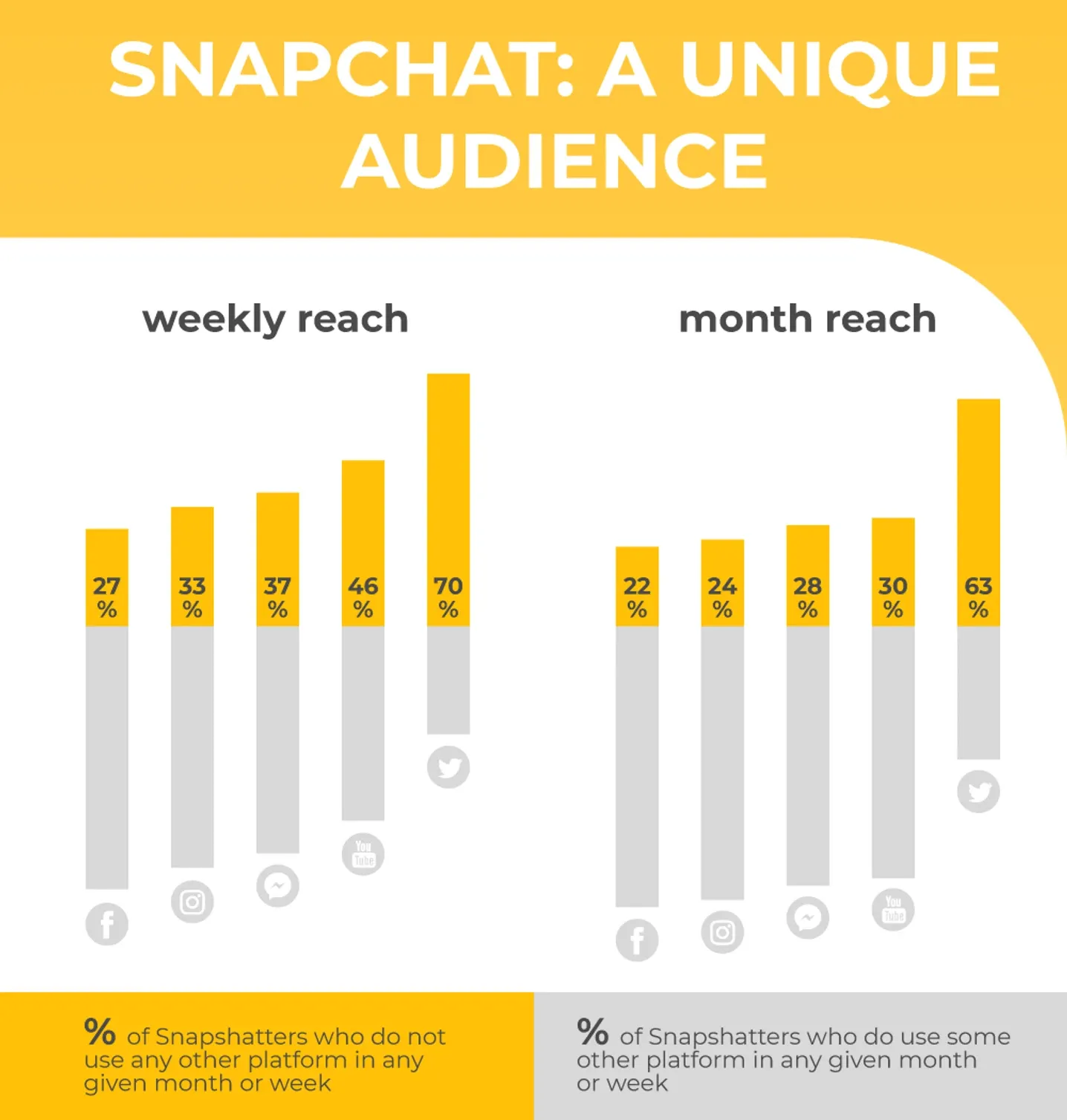 There are three ways of using Snapchat for your mobile app promotion.
Snapchat account. Broadcast company's snaps. Snapchat stories — in case they'll be entertaining enough and are posted regularly — can help you build a customer community and this way to drive more app installs.

Snapchat native tools for ads. Having a company account on Snapchat, you can launch campaigns in order to increase customer engagement. Encouraging people to share their experience with your app is a good way to show potential users how good it really is. Run contests, give promo-codes, connect Snapchat campaigns to real-life campaigns — and the app will get more app installs.

Working with Snapchat influencers. Being really experienced community runners, Snapchat influencers can add some context to your app install campaigns. These Snapchatters know exactly what their fans do fancy, and are able to create cool entertaining snaps for your brand right away.
The first two options are inevitable. The third one is definitely worth your attention, especially if company's target audience is young people.
Arrange working with Snapchat influencers
An average price for Snapchat influencer post is about $40 per 1,000 views. The costs are normally dependent on the number of active views per video per day. Since February 2018, Snapchat influencers have access to their statistics on unique viewers, total time watching, audience demographics — the data you will need to launch and analyze the campaign.
Step 1. Conduct a research on the target audience
Influencers usually work with specific themes: films, fandoms, cooking, pets, you name it. You need to find the influencers who work with themes that matter the most to your potential clients.
Step 2. Plan the campaign
After having found ideal influencers who are matching the company's interests and views and contacting them, plan a campaign. Set a couple of SMART-goals for the campaign, define the key performance indicators you will work with.
It is a good thing to launch same campaigns with several Snapchat influencers at a time. This helps learning more about your customers, compare different styles and approaches and to create benchmarks for future campaigns.
Step 3. Plan the content well
To be able to use Snapchat influencer marketing to its full power, take care of a fitting format and context. Whatever the commercial will be, it has to snatch the attention of the mainly young audience, ready to swipe further if the content is not matching their expectations.
Solution: on Snapchat, strive for something called "advertainment", something that sells and entertains at the same time. Give the influencers the freedom to wrap your broadly mapped out content plan into something appealing to their followers — this is the best practice.
Be aware: Snapchat content doesn't necessarily require extremely professional content. "Real life" videos without too much "makeup" are proven to work better for brands because they look more honest and genuine.
Step 4. Provide clear instructions
An essential part of a successful app install campaign is giving users really clear and easy way to download and start using the app. There absolutely should be:
Visual demonstration of the app's value proposition.

Demonstration of some particular handy functions of the app.

A strong call-to-action proving the value of downloading the app to the user. It works well to show the call-to-action during the whole snap, not just in the end.

Precise instructions of "Swipe to download".
The thing is while working with millennials — and Snapchat is the ultimate source of millennial clients for your business — you have to make every action as smooth and quick as possible to a potential customer. Instructions and links are important for that.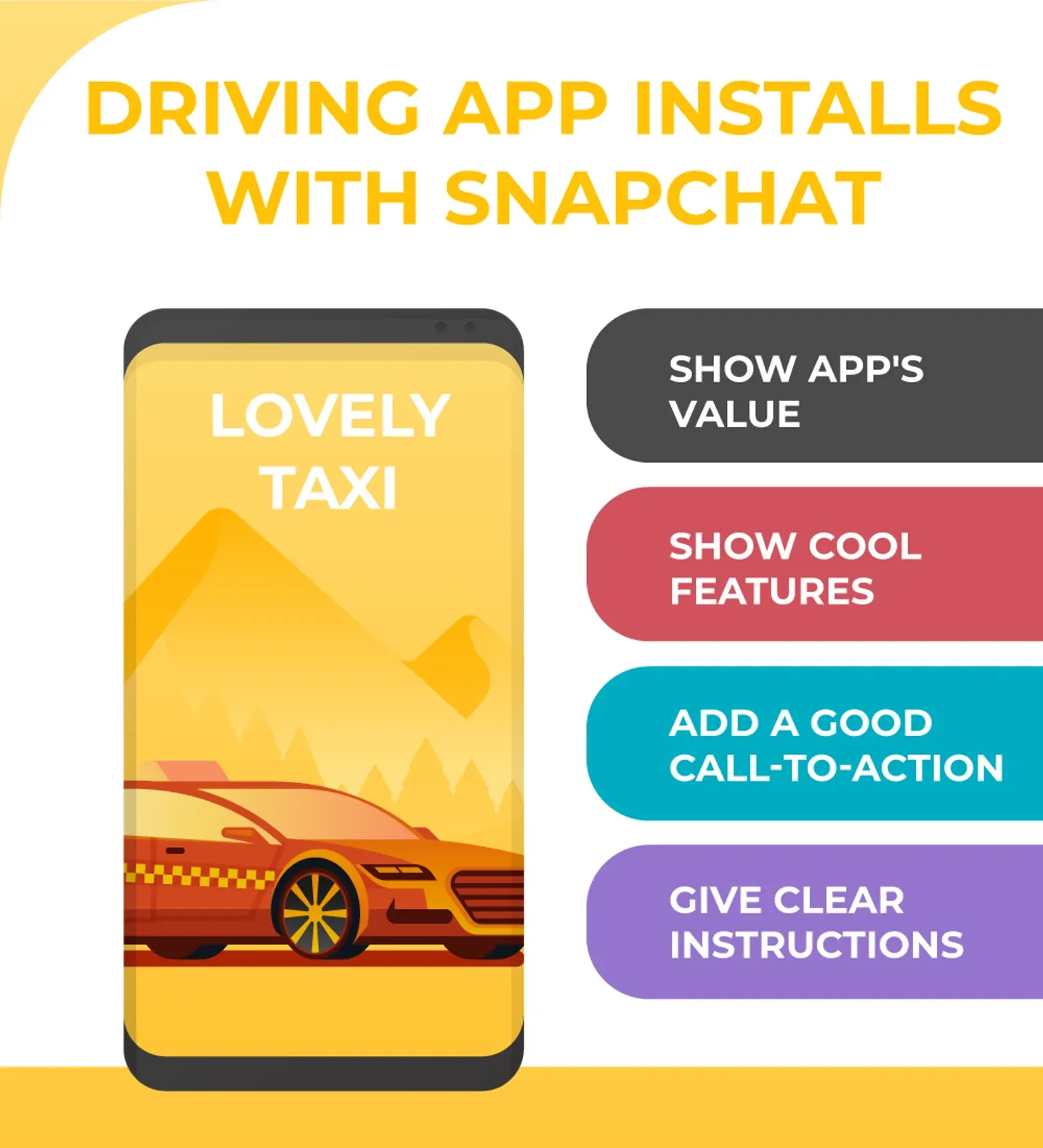 Wrapping up...
Snapchat is a perfect source of young customers for your app. The format of this social media platform provides that the audience of it is engaged and loyal. Making the snaps from your company account and using Snapchat Ads is one way to advertise your app with Snapchat.
Working with Snapchat influencers is another smart thing to do. Searching for right influencers to represent you and planning measurable goals for app install campaigns are the key-factors of success. Do not miss out one of the hottest mobile app promotion tools in the market and start using Snapchat now it's hot💪