How Google helps apps doing good ASO to get more installs
Whenever you are at your 'having a mobile app' journey, you always want to get more. More installs, especially — because hey, that brings more clients! But the question is: how to get them?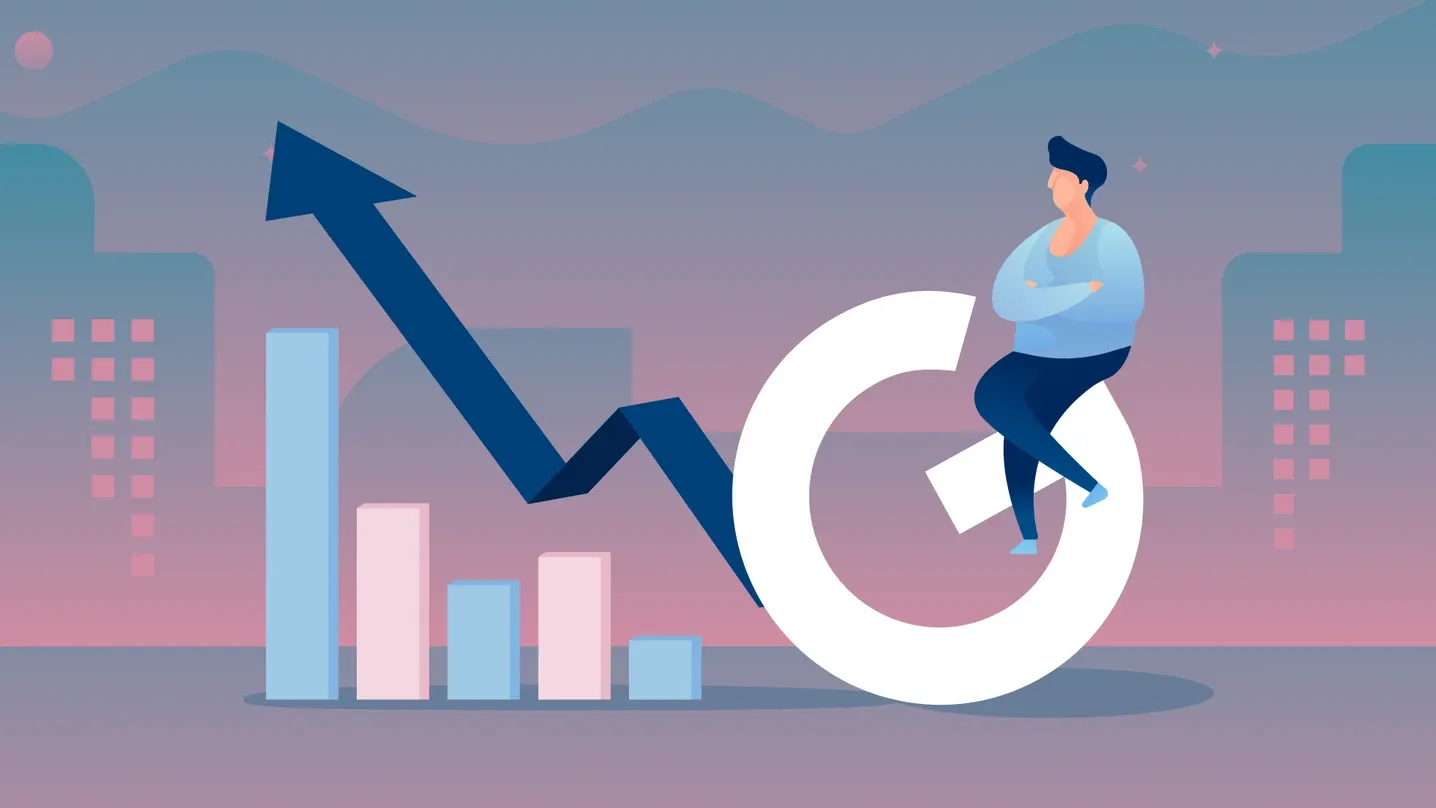 Good news is that we have Google Play. And Google Play really helps those doing good with app store optimization. In fact, if Google Play considers you a perspective app, you can get more installs.
How does it work? Well, there are many ways, but one feature recently became really valuable. We're talking about Explore where Google suggests people download certain apps. These apps are chosen by Google because… Well, simply because of these apps doing great work. Almost 50% of all Android installs come from this source. And you can make it work for you. 🤓
What are Explore installs in Google Play
In August 2018, Google Play released an acquisition report which segmented installs by Search & Explore. Google has split organic installers into two categories — those who search for apps typing the keywords and those who install apps surfing through the Store.
Right after this step, Google Play started releasing new cards for its interface — For You, New Arrivals, Recently Updated, Popular Apps & Games and many others. Continuously suggesting people to download more cool apps is the new Google Play policy.
And that's a good thing for new apps. Now you can boost installs simply showing you're playing hard by the ASO playbook.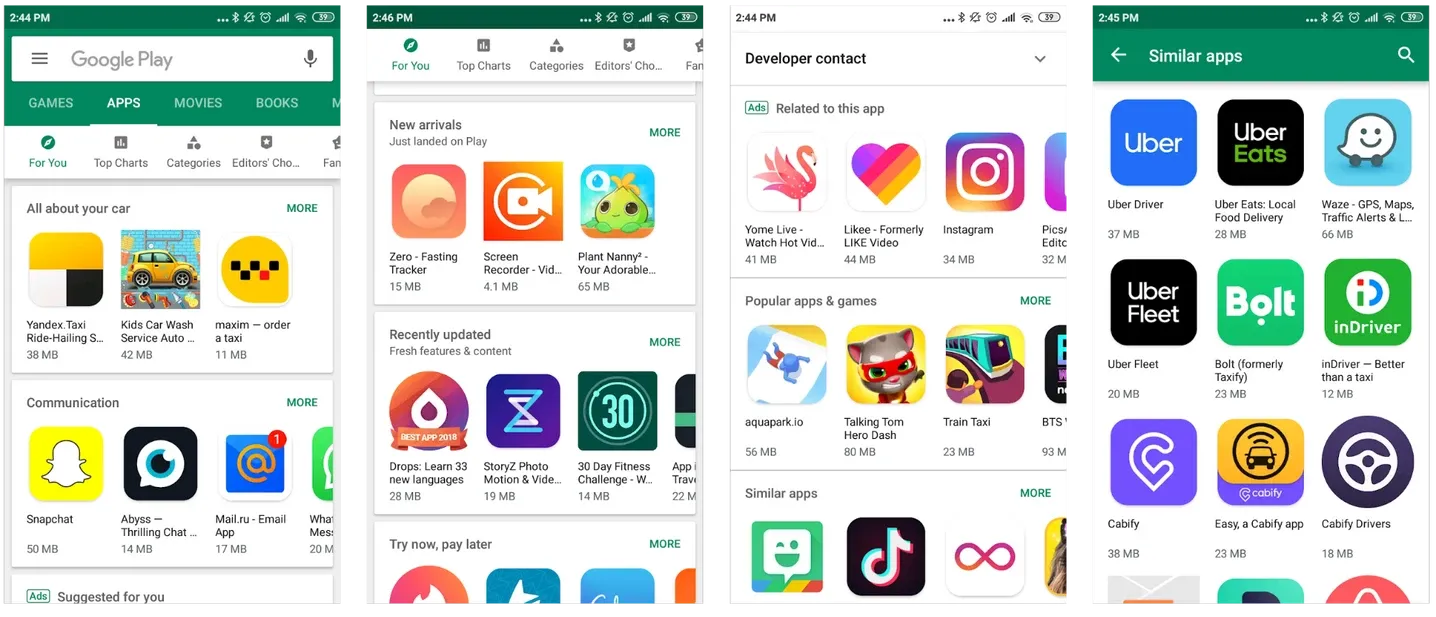 Explore installs can draw viral growth
ASO experts have noticed that shortly after the update from August 2018, large apps were getting more installs from Explore than from Search.
The trick is, Google trains users to click on the related/suggested apps. And it works.
Imagine — you are working on your app, steadily growing Search installs month by month. Suddenly your Explore installs start bringing you three, four, five times more installs then Search. 🤩 Now that is viral growth every app owner dreams of. We at Onde proved that it really works like that.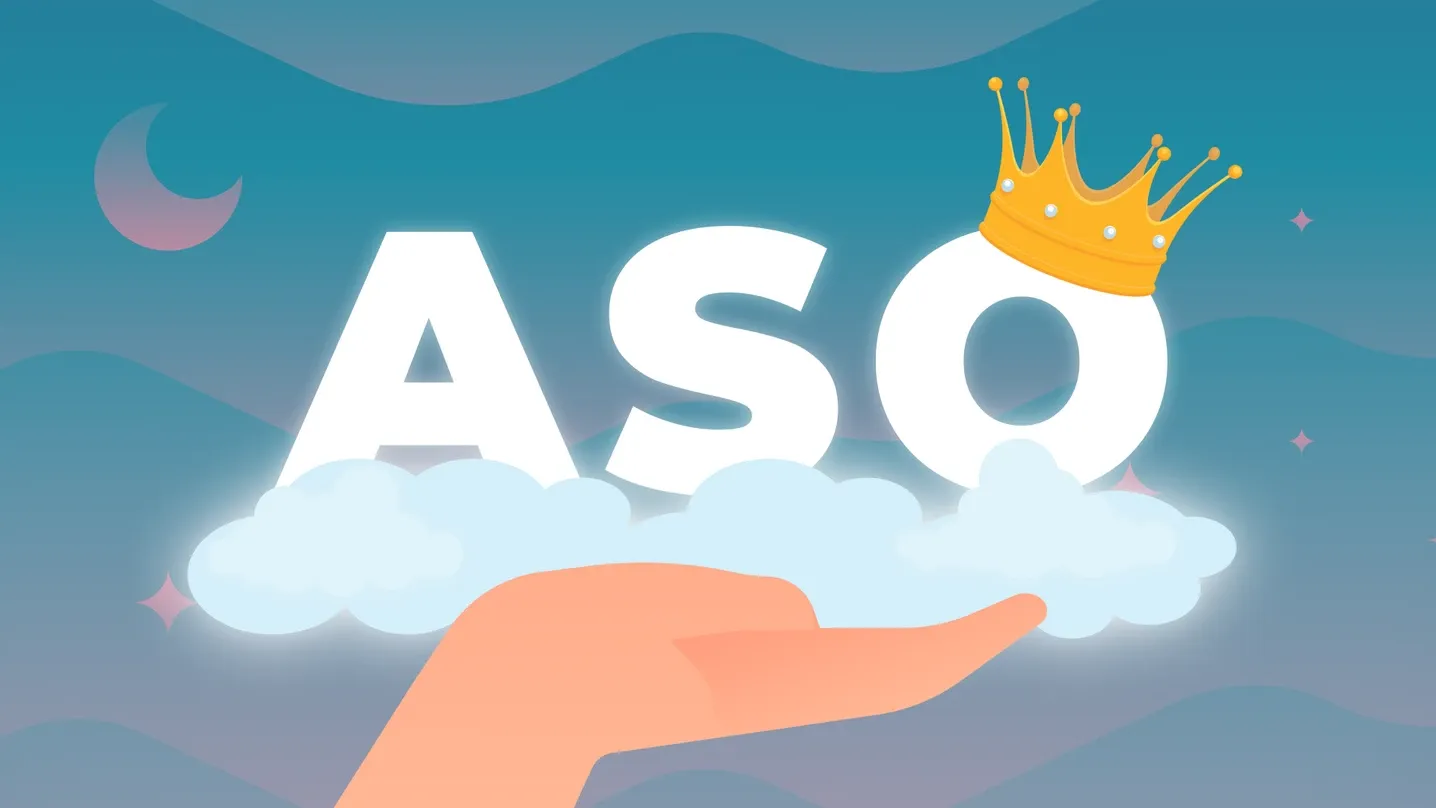 How we hit Explore installs
All mobile app marketers agree — to get more Explore installs one should definitely do ASO. The so-called holistic ASO embraces:
Keywords optimization. Choose the right keywords to help your potential users find you. Finding the right keywords is a question of experiments and analysis.
Answering reviews. This element is often failed by business owners but is really important for many reasons. Show your clients (and Google) that you do really care about users. Appreciate those who leave good reviews and try to help those who write bad ones.
Improving the graphics assets. This is a perfect space for experiments. Create different screenshots, try different logos (we've got an amazing case about how a new logo can increase the number of installs — but that's a whole new story. We'll tell you next time 😉).
All the ASO tricks named above bring your app more Search installs. As soon as you grow in the Search segment, the Explore installs will increase.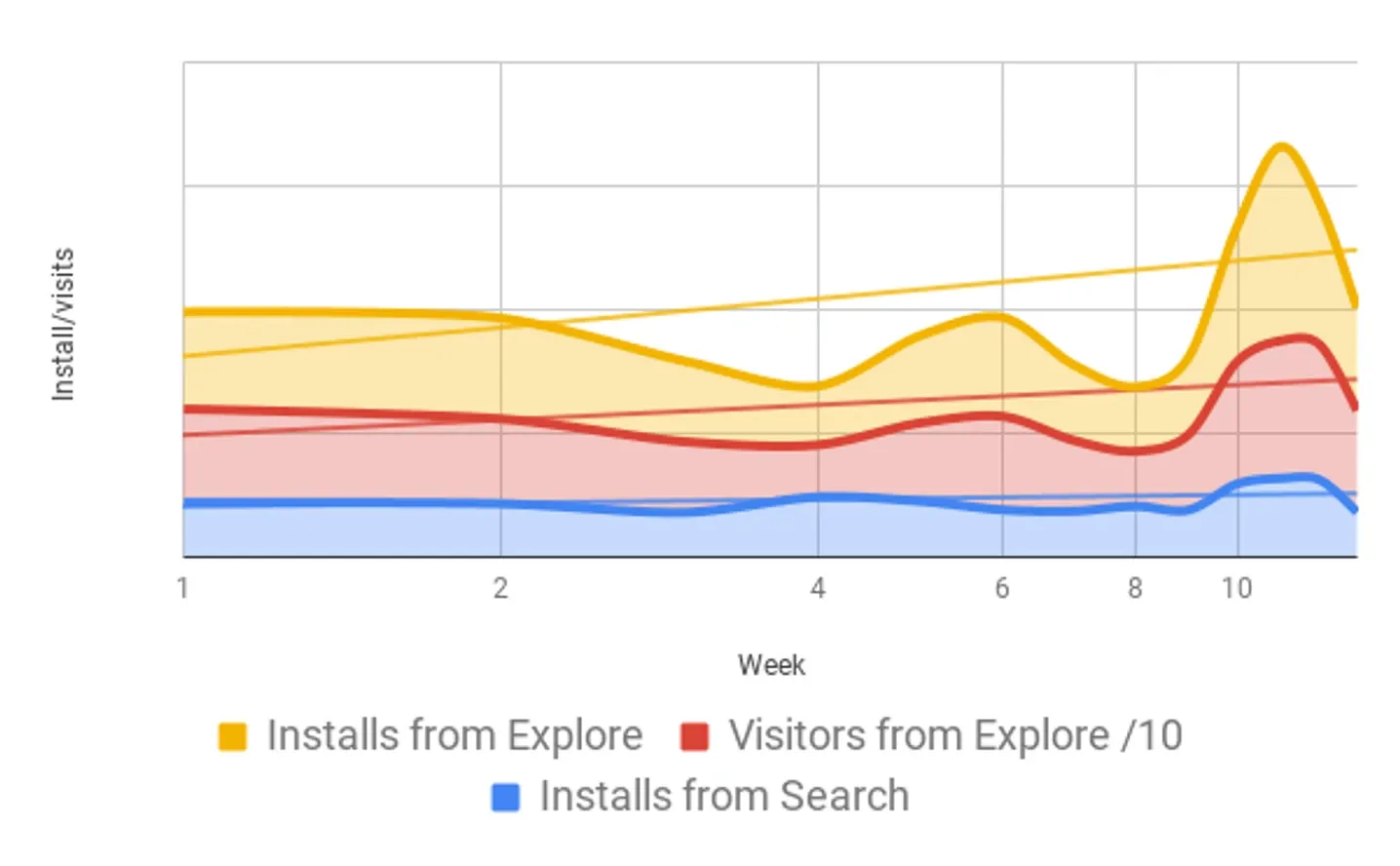 Can anything go wrong? Unfortunately, yes. 😒 Sometimes short term Search growth does not correlate with Explore installations growth. Google search algorithm is very complex, so Search installs do not 100% guarantee Explore burst. Google Play takes almost everything into consideration to decide if you're working hard enough on your app — its rating, retention rate, uninstall rate, and many other things, so don't forget about them.
Another crucial thing to remember in order to not fail your Google Play Explore boost is the quality of your service. There are no success stories for those whose drivers are rude and service is poor.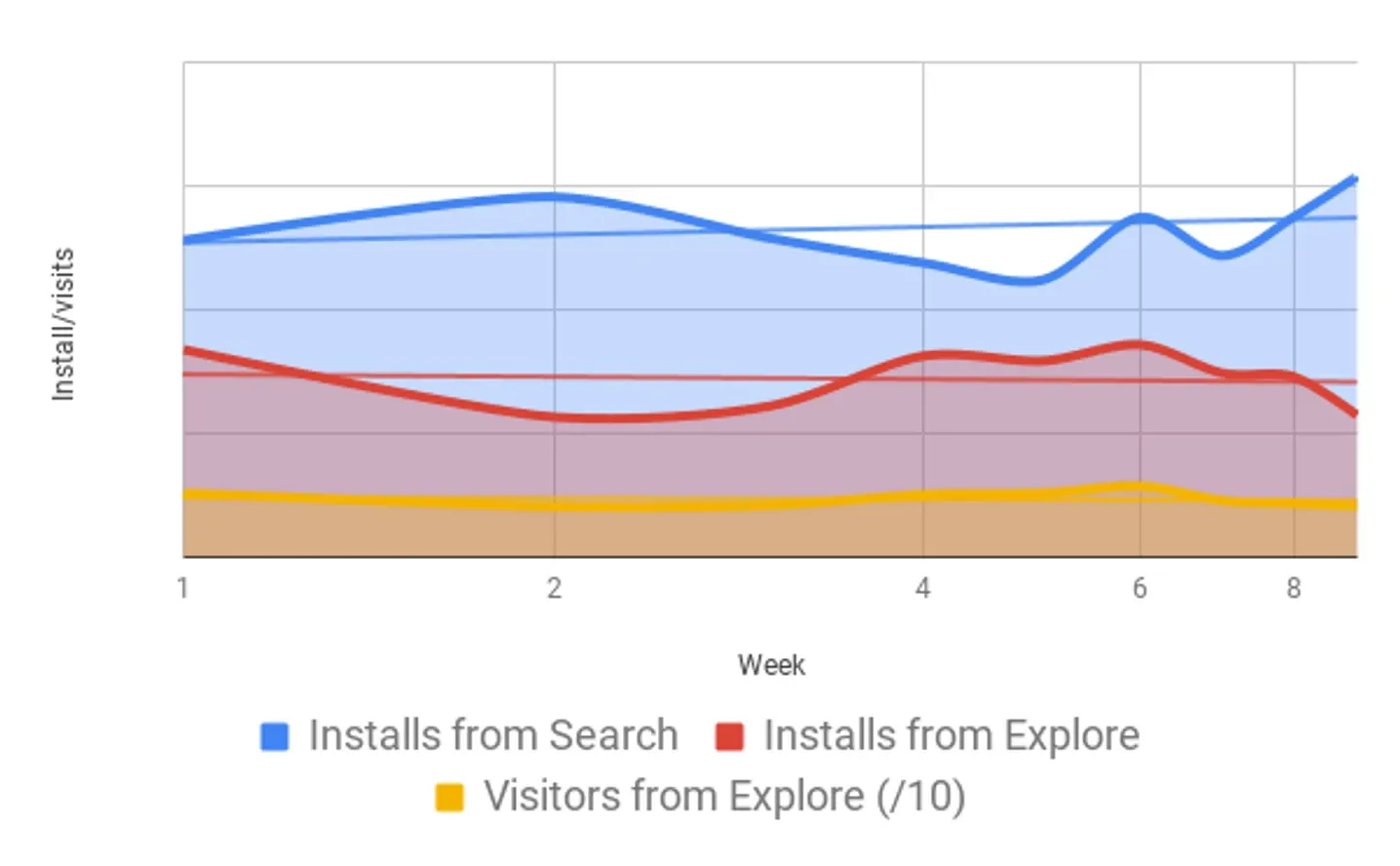 Be strong! 💪
Google Play is going to make your app visible only if you're "promising". That means you need to persuade the store that your app will be interesting enough and, let's say, good enough for users.
The app store uses AI and Machine Learning to analyze which apps have the strongest potential. The algorithm takes tons of data into account and picks the apps showing prospective growth.
One thing is sure — ASO tips and tricks help to create a good history of the app growth and become successful in the long run (even the growth of Search installs is a good result, isn't it?). That's why it is so important to work on your store listing continuously. So, keep on the ASO track to get more Explore installs. 🚀
If you don't know much about how to do ASO the right way, we do know! And we're always ready to help you. 😉