App Store Optimization for Cambodia: don't limit your searches by one country
ASO helps apps to be on top of the search results, but how do you get there? Here comes the magic of choosing the right keywords. In this article, we'll explain how to become the app customers are really looking for.
ASO case study: How leading taxi app in Cambodia got 30% organic installs uplift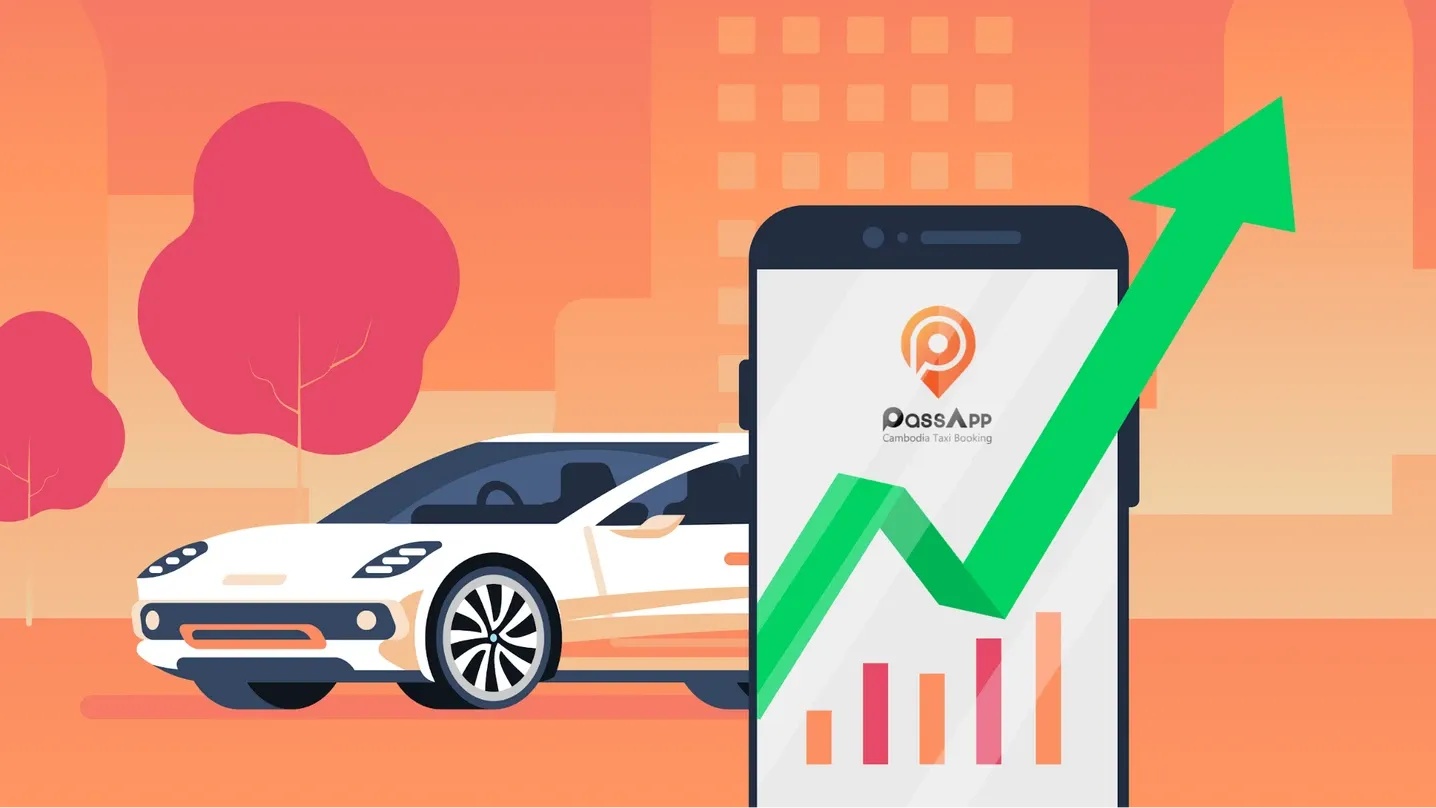 PassApp taxi is a leading taxi company in Phnom Penh, Cambodia. Their apps are extremely popular and have hundreds of thousands of installs there. They tried ASO the first time — and succeed! Before we start, we would kindly ask all the ASO practitioners to take a deep breath and read the article until the very end. We all know — practice makes perfect!
But first things first… What is ASO?
App Store Optimization is essential mobile marketing technique. It is a beautiful combination of textual and visual parts to make an app rank higher in search results. And the right keywords takе your application to the top and allow people to find it. Let's take a closer look: when you type even the first letters of "Uber" in the search tab, you will 100% find it there. As you see it first, you'll download it. That's how it works for those who spend their time on brand-awareness and ASO.
And what happens if you're a small local taxi company? People will type "taxi", "cab", or "ride" to find a service. Kind of obvious, isn't it? If they find your app first and are satisfied with its features, they just stop looking further and install your app.
We took all that into consideration and the magic began.
Strategy is everything
We decided to focus on people who haven't heard about PassApp and were looking for a taxi app in Cambodia. The first step was to collect the popular search words people use to find a taxi app. The idea was to identify these keywords and get to the top 5-10 of the search results. We didn't set the world on fire — the main goal was to rank as high as possible.
Choose the right keywords
We gathered all the keywords used in Cambodia on Google Play and App Store and divided them by popularity & competition. This helped to prioritize the keywords that could get PassApp new downloads. To find new keywords we followed standard ASO activities:
Brainstorming
Competitor keywords analysis
Auto-suggestions
Cambodia is a popular destination for tourists — and we used it 100% percent. We targeted a few countries, searched for popular keywords related to taxi in Cambodia, added these keywords to ENG AU localization (devices, where Australian English was chosen as a language of the Apple ID) of installs increased drastically!
Compare keywords ranking before & after ASO
During two iterations more than 40 new search terms were added. The absolute majority of the added keywords in the Android and iOS apps descriptions brought PassApp to the top 5 search results. For example, let's take a look at the results of the first ASO update — PassApp ranked top 5 by 20 additional relevant keywords in Cambodia.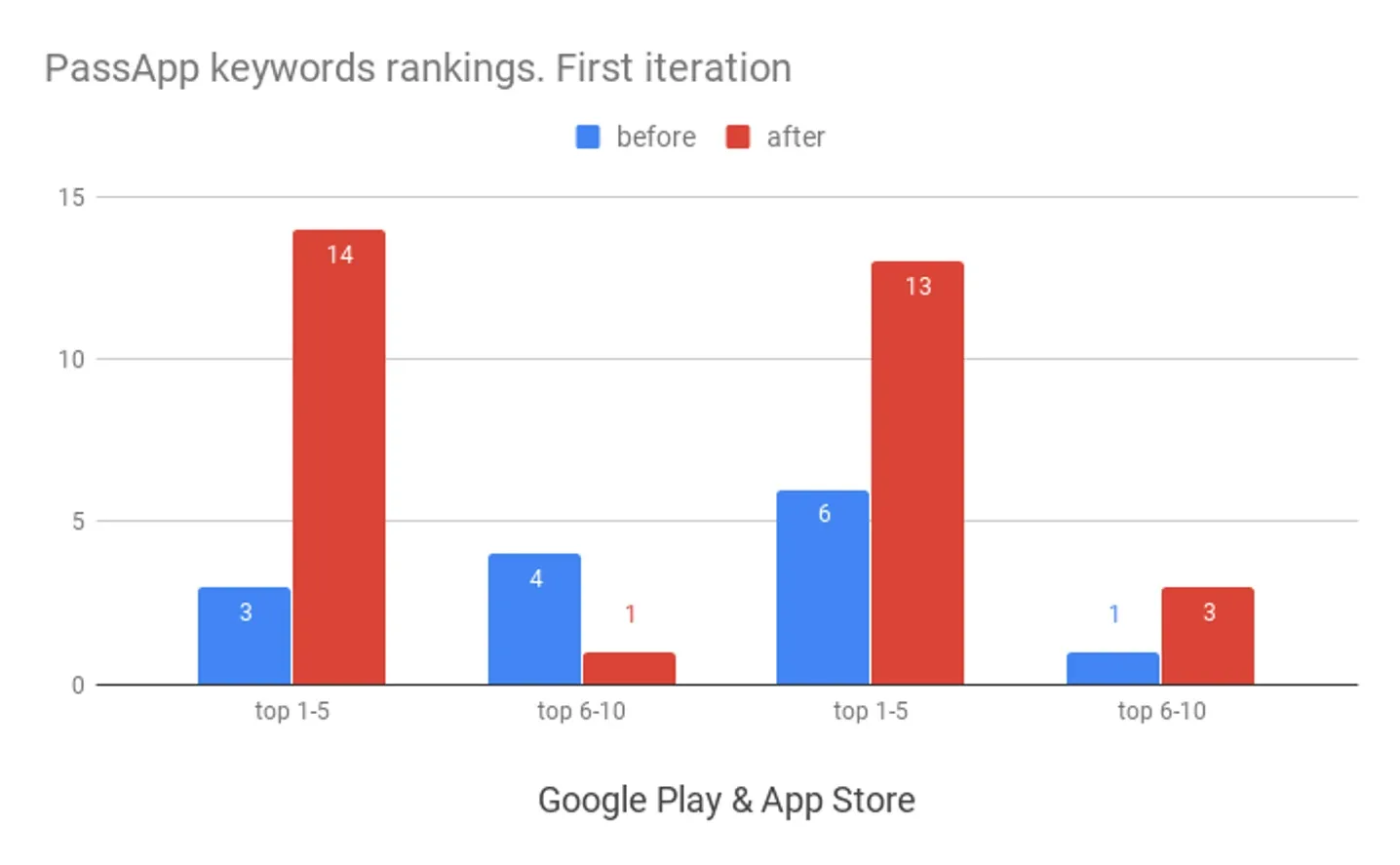 Comparison of the number of keywords in top 10 before and after the first ASO update
Inspired with results of the first attempt, we added the rest of the keywords generated during the first ASO iteration. Finally, the app got to the top 5 by another 20 popular keywords in Cambodia. Looks good, right?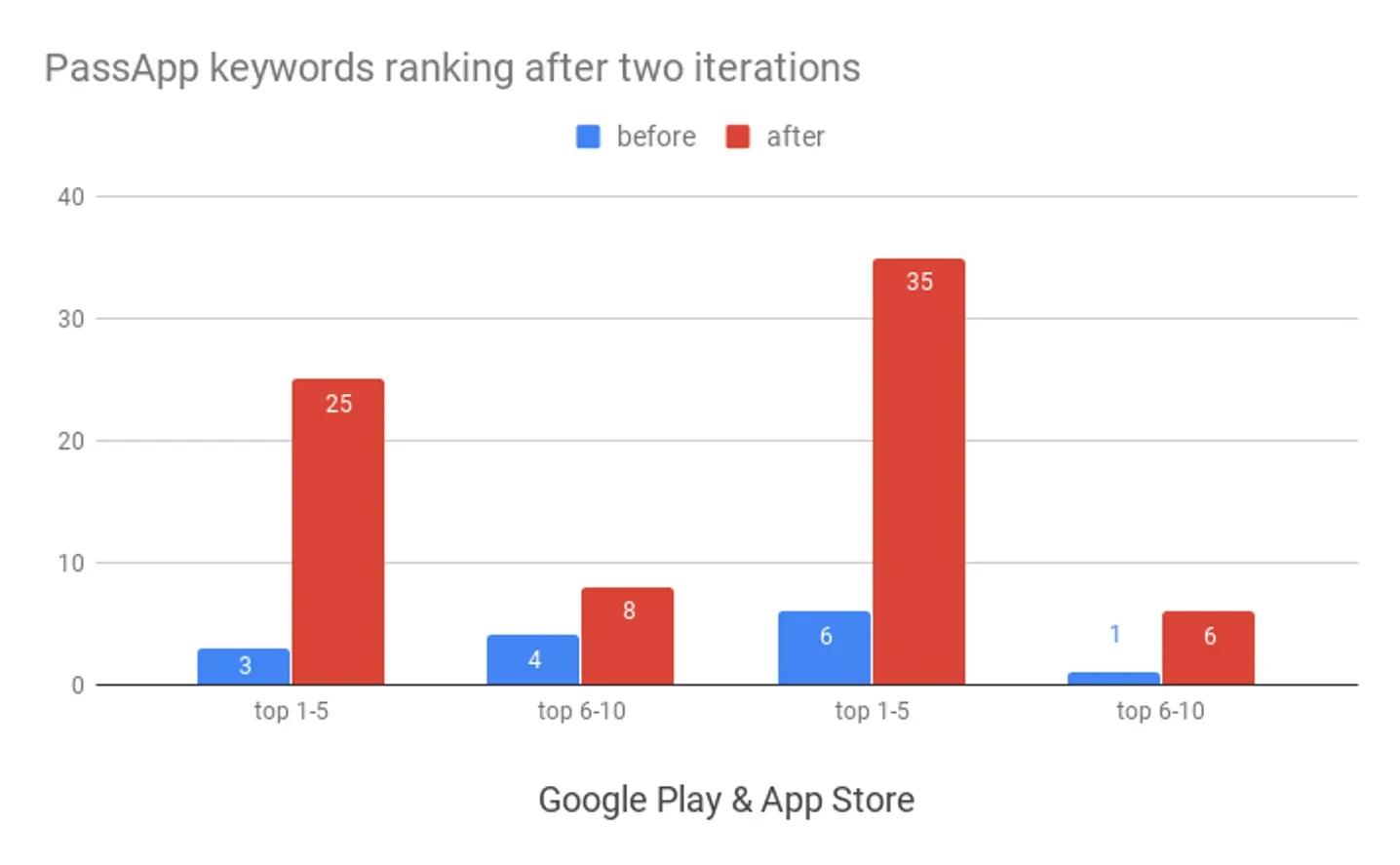 Still, this is just one side of the ASO medal. Even more importantly, is to discover keywords that get more app installations. During both iterations, we were super focused on keywords prioritization. Next step is checking out downloads as a way to prove the ASO works.
Have a look at installs
Let's start with the Google Play stats.
After the ASO, Android organics first-time installers rate jumped by 30% (organic installers are people who searched for something on Google Play and downloaded the app).
Now ASO got PassApp around 35k new app users.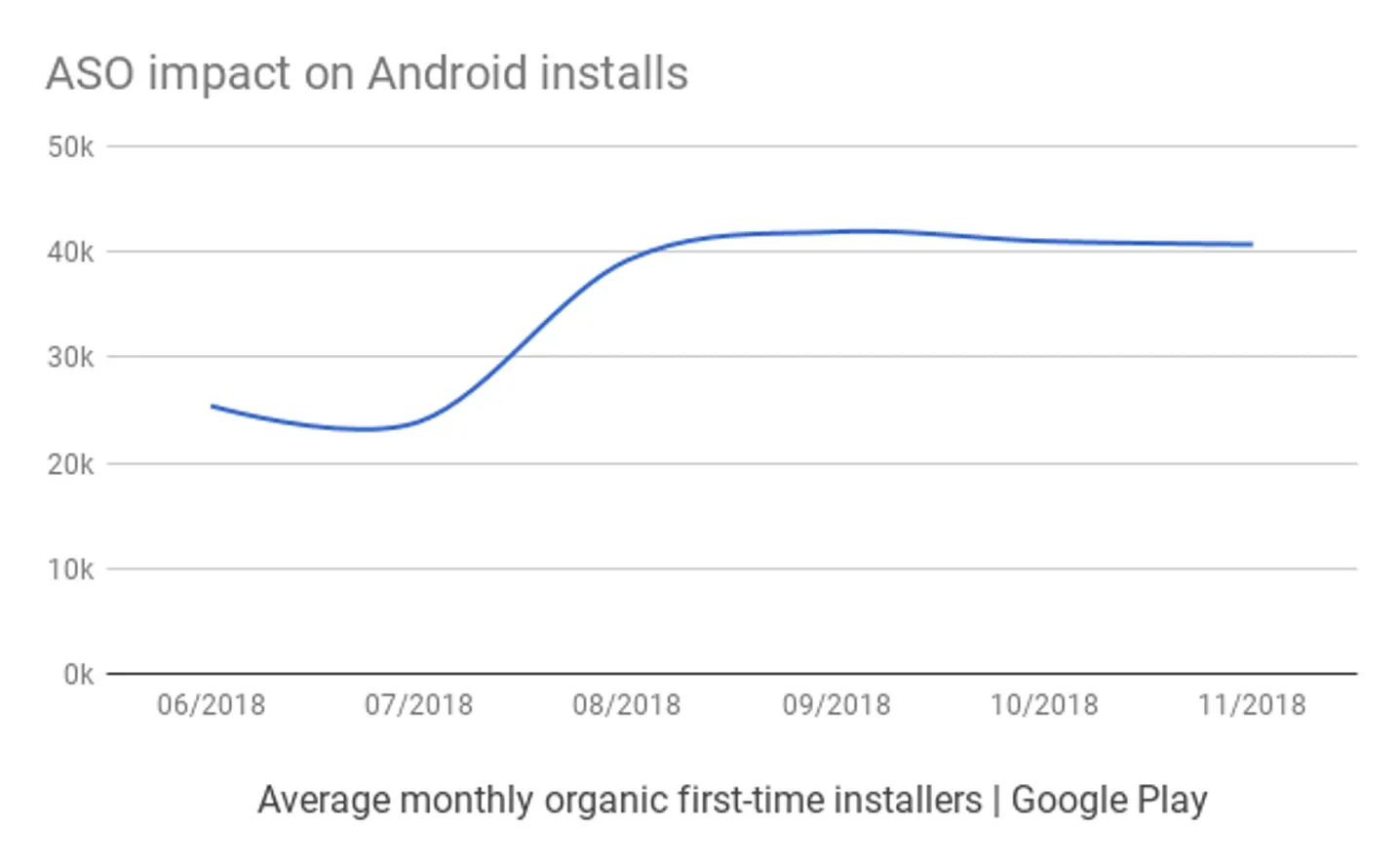 The interesting fact that new users were highly pleased with PassApp. In the next 3 months after the ASO updates Android app got more 5 star ratings than during the last 12 months. It improved the general app rating from 4.22 to 4.37 out of 5. Nice jump!
Don't forget installation rate
Daily average iOS app units (unique downloads) before & after ASO increased by 8%.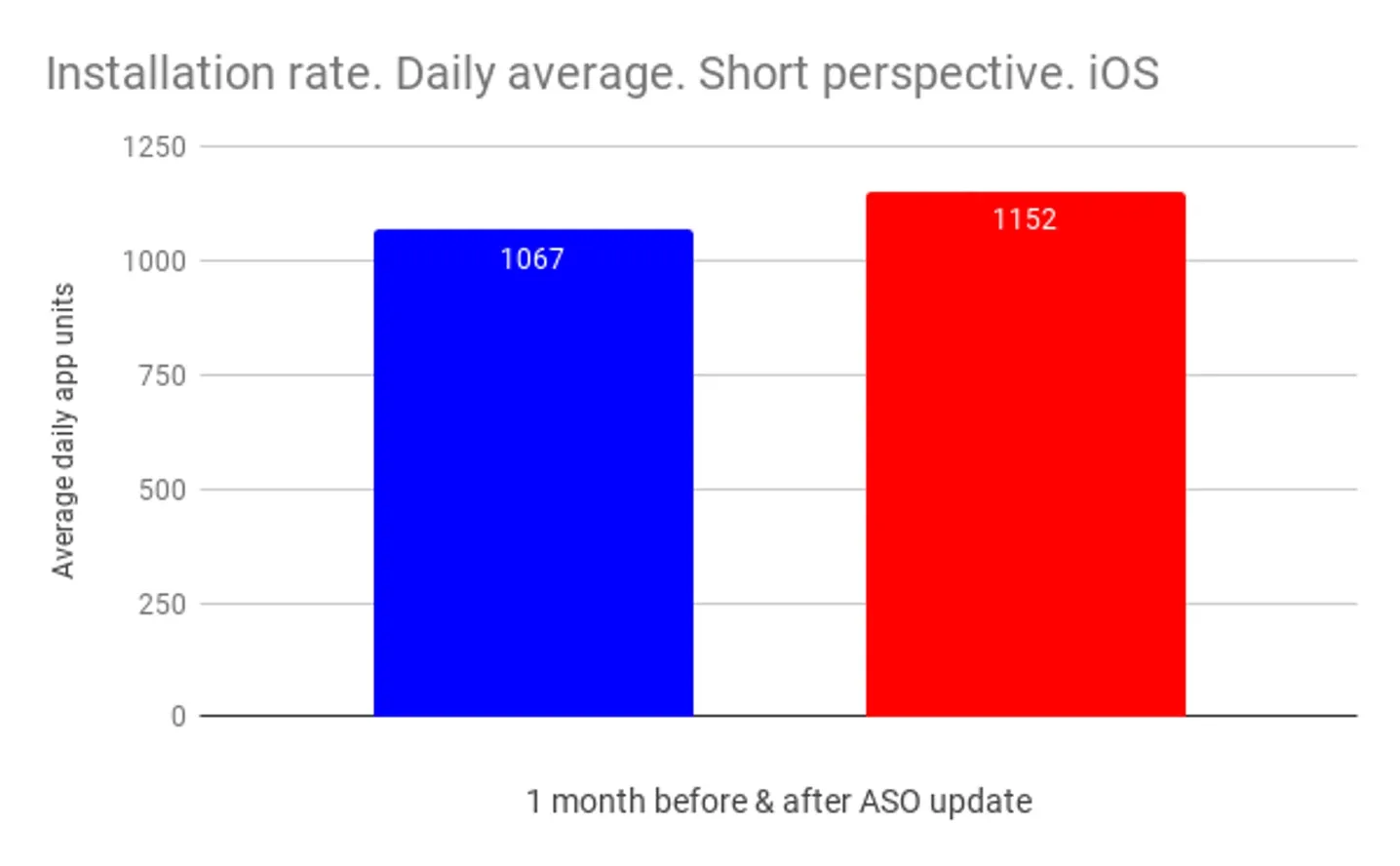 In a long perspective (3 months before & after), installs increased by 3.5%. To be more precise, this means that new keywords brought around 1k new app users monthly.
Never stop ASO
ASO might be the lowest hanging fruit to drive new installations for your apps. You may not know how it works exactly, but you see the result of ASO specialists' day-to-day work every time you search for an app in the app store. Power of brands like Uber is huge, but if you invest efforts in continuous work on keywords optimization - you'll get steady app growth. People might look for your services with different words, using different languages. Even in the most unusual ways, you can find your customers. Be there when and where people need you.