Google Universal App Campaigns: tune it, tone it, get lots of app downloads
Google Universal App Campaigns is a highly automated tool created for optimizing Google app promotion campaigns. Learn to set up and tune the UAC with this guide — and get a whole load of app downloads!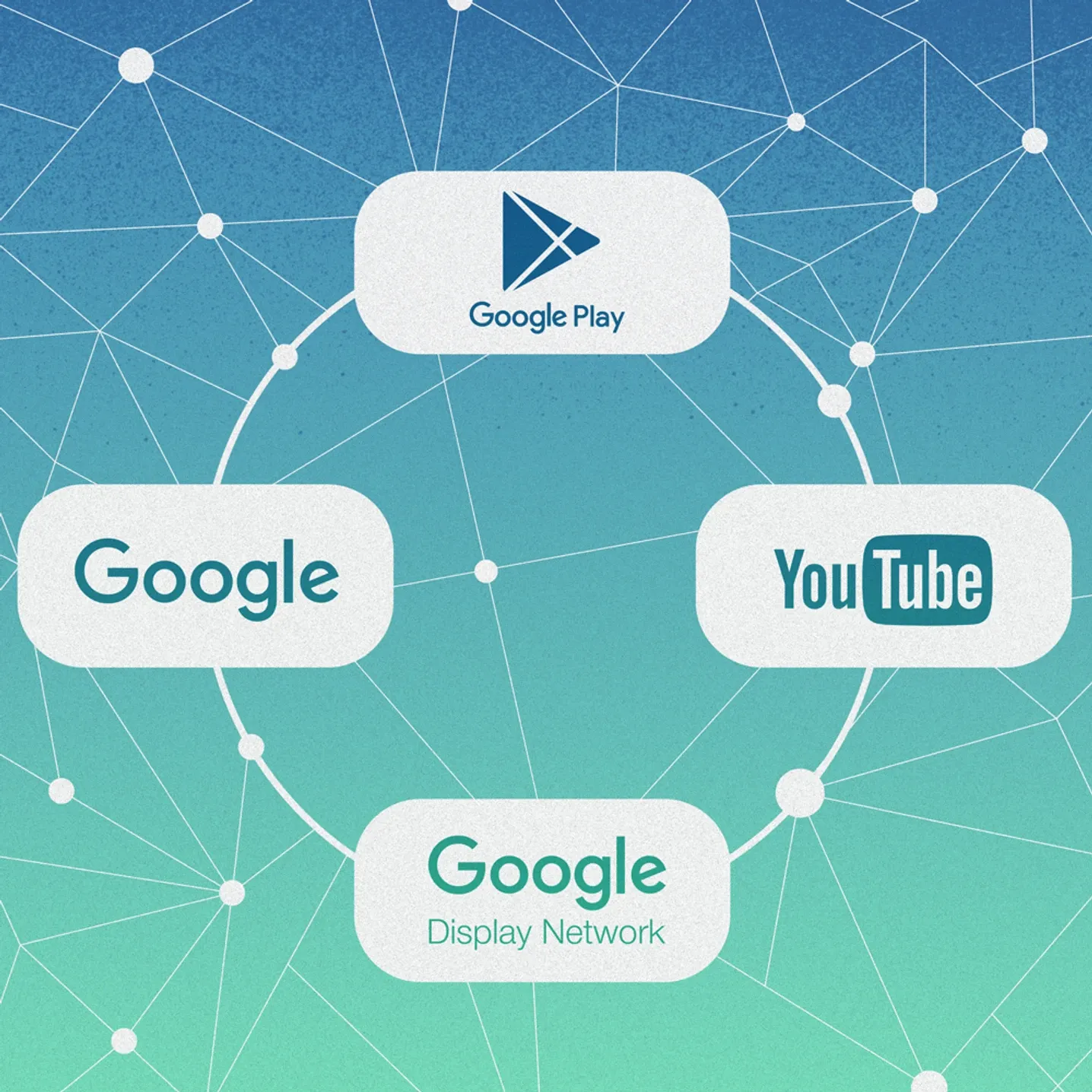 Google Universal App campaigns (UAC) is an app promotion tool based on machine learning algorithms. Many app-powered services make smart use of the UAC's possibility to advertise the app to the right users at the most relevant moments.
For instance, working with UACs helped Uber to refine the target audience without too much manual effort, and show the ads to this audience at the moments they're potentially ready to install. The result was +45% increase in signups rate.
Active audience, on right time. UACs work for all the Google-powered platforms: Google Search, Google Play Search, YouTube, and Google Display Networks. This means Google UACs optimizes campaigns — and then shows them all across the platforms to the most relevant audience.

No need to adjust the assets manually. Thanks to machine learning algorithm, Universal App Campaigns do not require app owners to have any specific marketing or design skills to launch effective campaigns. All the assets created in course of UACs match all the platform requirements.
- ASO will work even better. Working with Google UACs has positive effect on your app store optimization strategy if you already have and apply one. Because UACs work with the existing assets and improve them for getting more paid traffic, the cost-per-install decreases. Result: boost in the app ranking and more installs. Win-win situation!
How to set up Google Universal App Campaigns
The essence is simple: you add a couple of textual and visual assets that are corresponding with your audience interests, place a bid on campaign costs, and the rest is magic helping potential customers to find your app.
Universal app campaigns are not extremely hard to set up even if you have zero experience with it. Let's see what the Google UAC set up steps are.
Google AdWords. New Universal app campaign
Log in to your Google AdWords account. From there, go to the "All campaigns" tab, then to "Campaigns" and click the "blue plus" icon.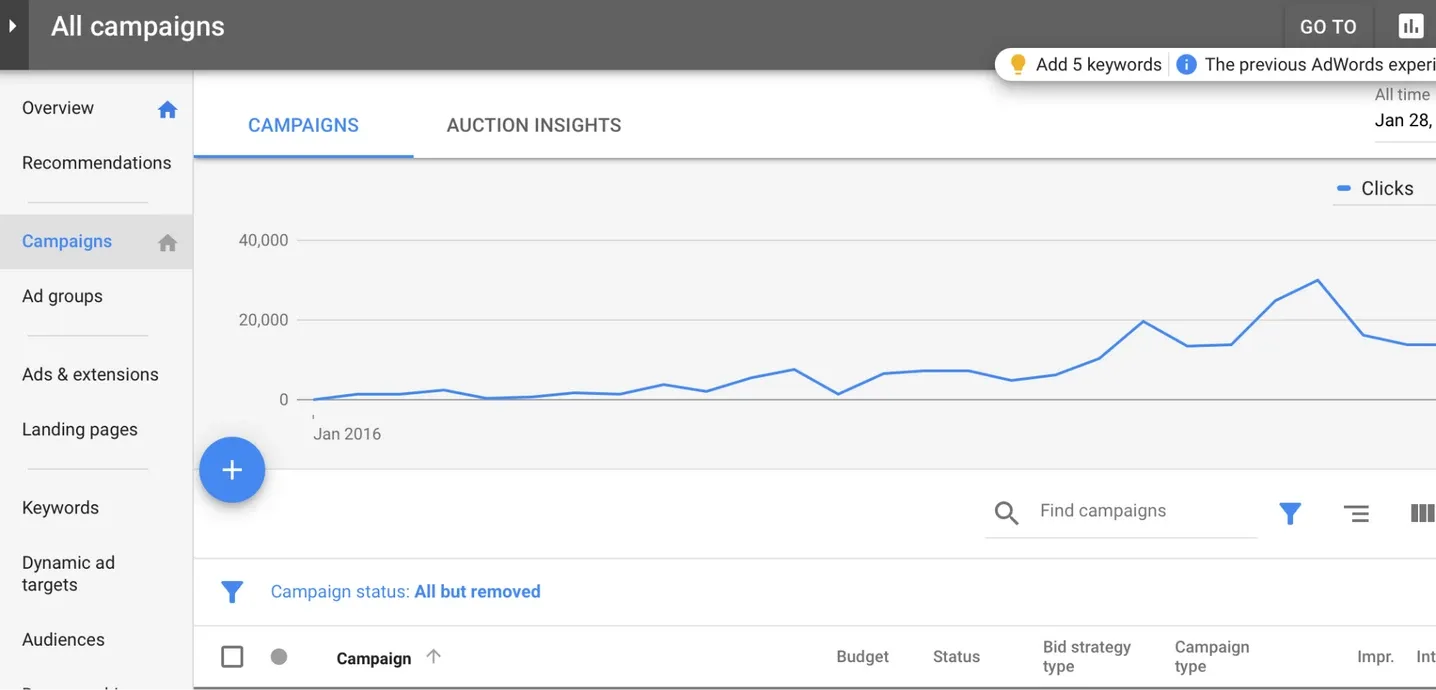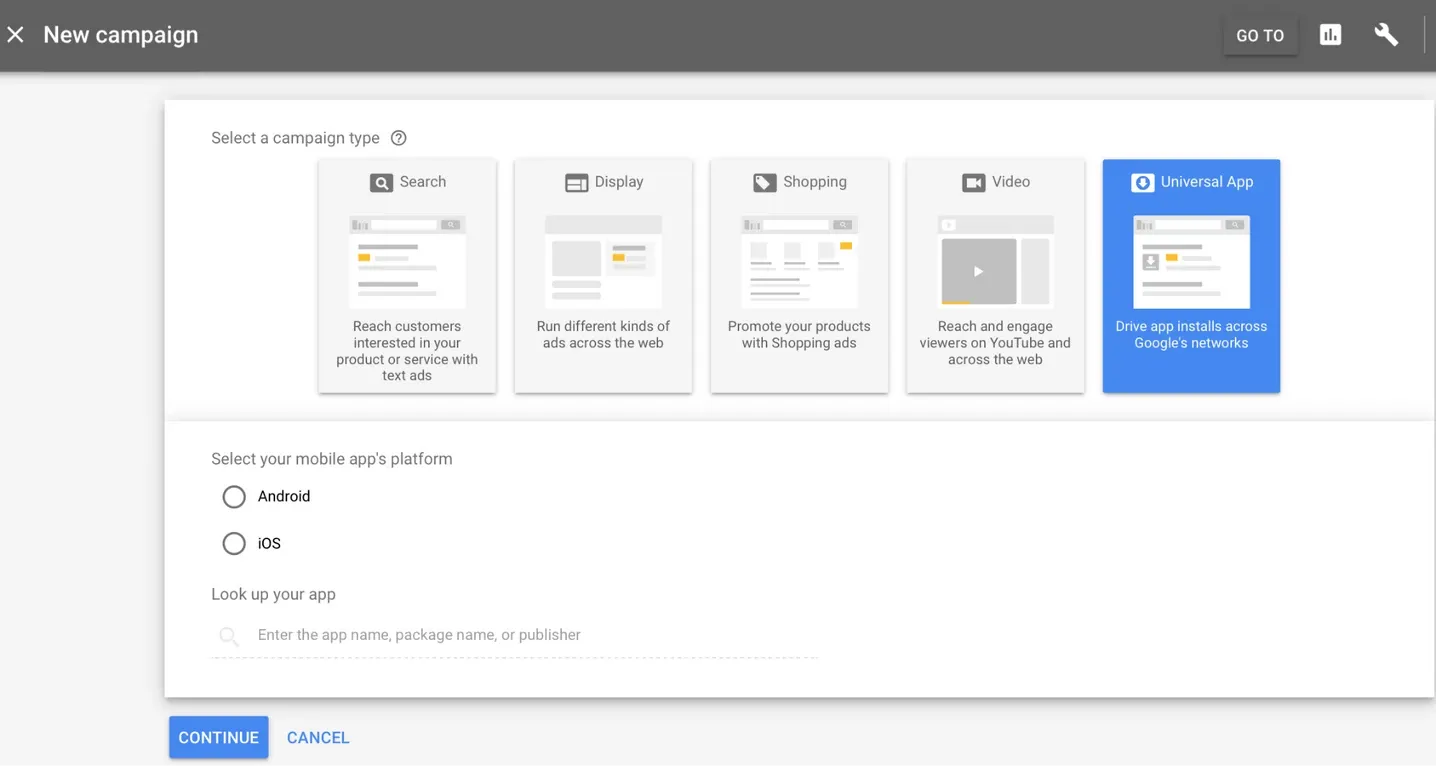 Choose "Universal App" and select the mobile platform you want to work with in this new campaign. Enter your app name and click "Continue".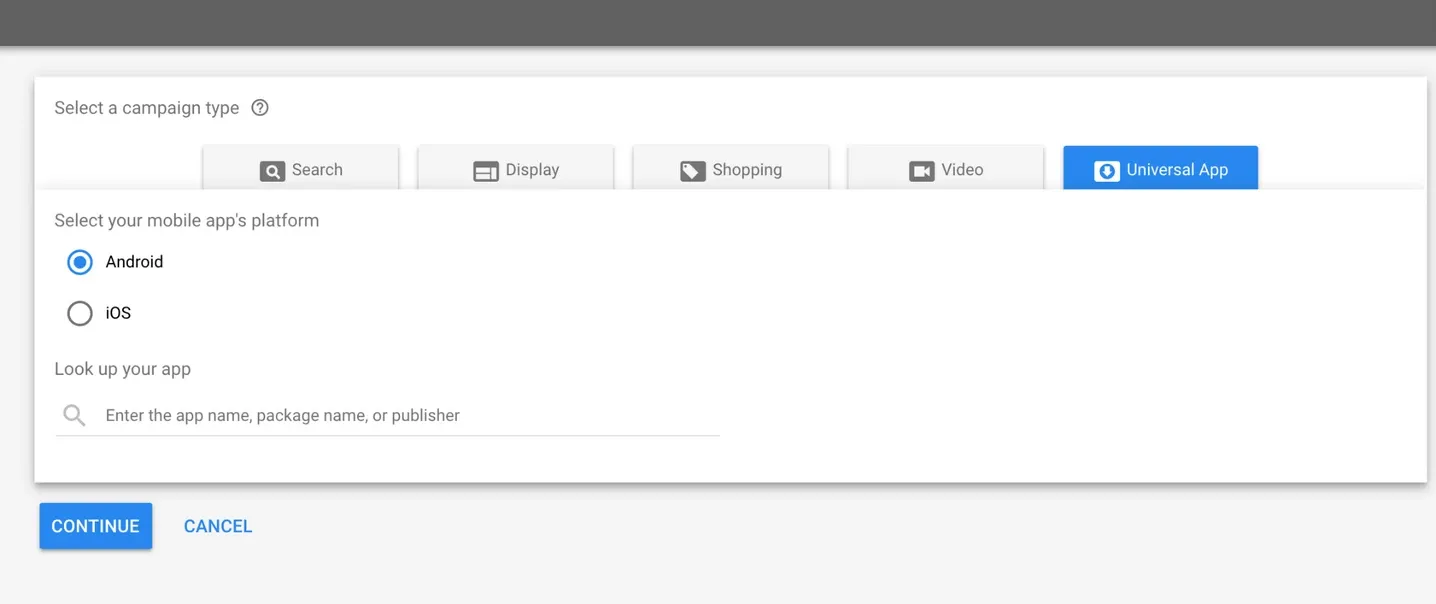 Now you can set up all the ad creatives needed for your new Universal app campaign.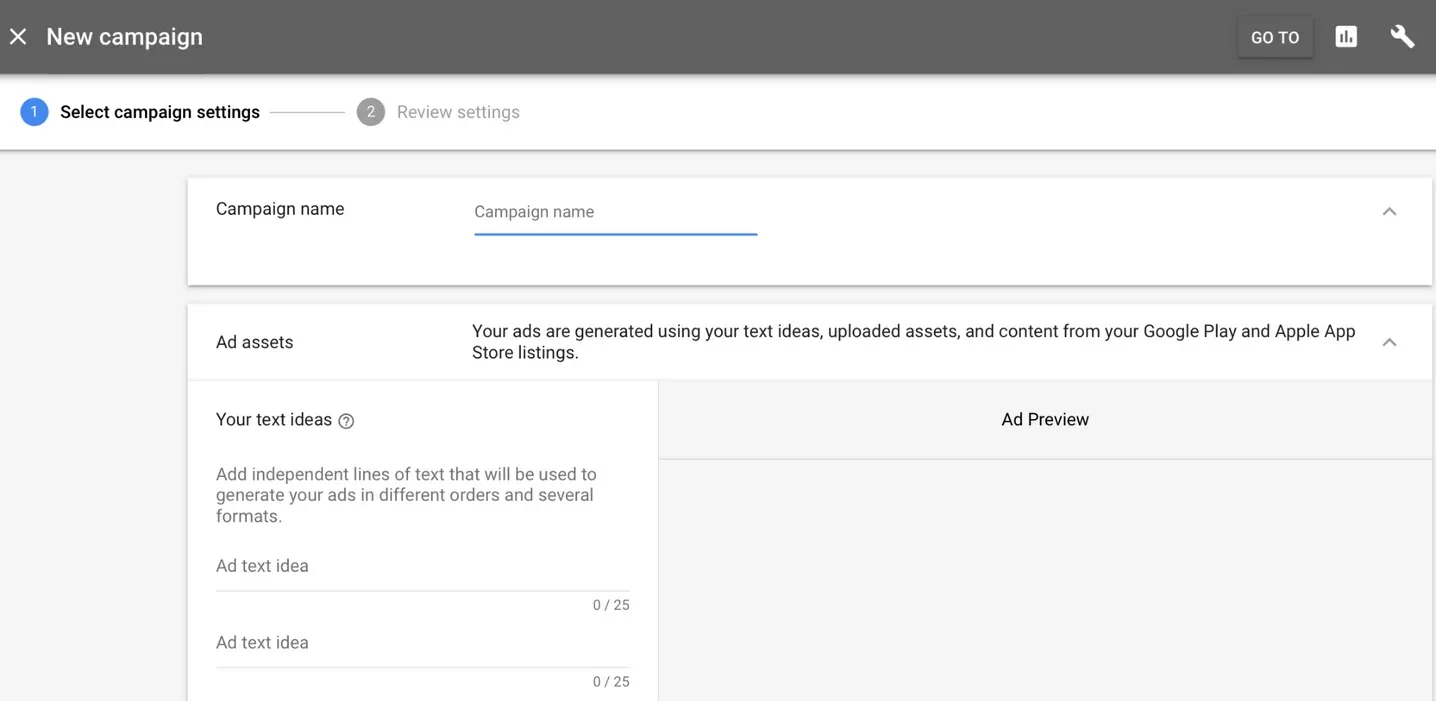 You will be asked to add textual assets, images, and videos for the campaign. It is highly recommended to carry out a research on the relevant keywords beforehand and optimize your app title, description and other textual fields to it. All the text ideas will be mixed — better make sure every part is clear and self-explanatory. Defining the list of keyword synonyms is a good practice as well. With synonyms, it'll be easier for Google to combine different pieces of text from your app and Ad text ideas and get something meaningful as a result.
The next step is adding visual assets. The main rule: provide as many as possible really high-resolution images so that Google can use them for all various platforms. It is extremely important to use the images appealing to your target audience. And that's why researching who your audience is crucial. Define the countries where the users are located, the language they speak, their interests, aspirations and the way of thinking — the better your initial visuals will be, the more app installs the UACs will attract.
After filling the sample assets in, you'll get to see sample ads previews for the channels supported by Google UACs.
Here you will also be asked to set the goals for this campaign. It's a choice of two options:
Install volume — campaigns aimed at increasing the app install volume. The results of these campaigns can be analyzed through AdWords itself.
In-app actions — campaigns drawing specific in-app events occurring after an install, such as a sign-up, making or paying an order etc. For "in-app actions" campaigns you will need third-party tracking tools to understand how many relevant events are really happening in course of the campaign.
Install volume campaigns are better to start with for an absolute beginner or a launching business. Because Google UACs use a machine learning algorithm, it is much better to launch a more complicated in-app actions campaign after the algorithm knows as much as possible about your app.
Now, the initial set up part is done. Doesn't it get curiouser and curiouser?😉
Google UAC budget planning
After having done the initial set up, you'll have to set the budget for the new campaign. This includes planning the daily budget you're ready to spend on app advertising right now and bidding for an acceptable cost-per-install (CPI).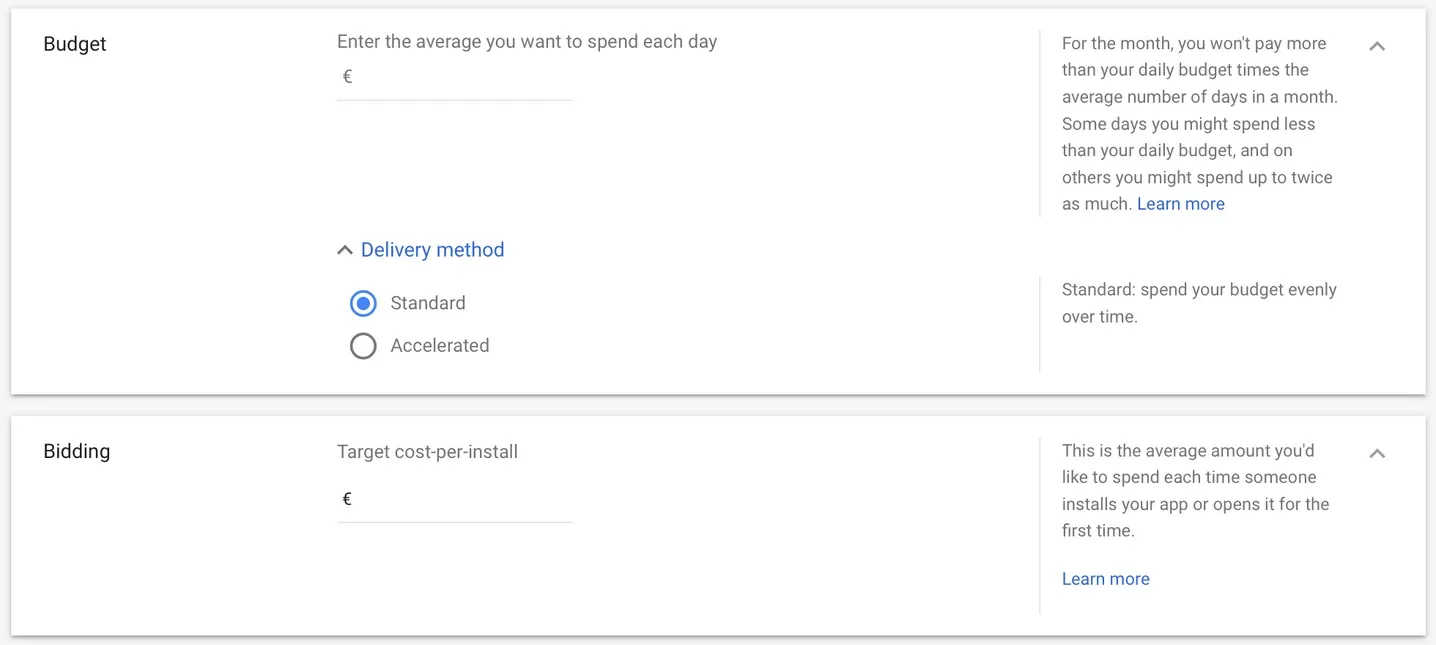 If you'll follow the "Learn more" link, you'll get more information about UAC budget planning and some good advice from Google on how to manage it the very first time. We advise to do thorough budget planning before you even start to fill this form in. Despite Google UAC is proven to be an effective tool for every budget, it's always better to invest having realistic expectations than to throw money at the wall.
The budget needed for productive Google app marketing campaign launch will depend on:
competition level in the industry in your country;
marketing efforts of the competitors;
having your app already optimized (or not);
campaign goals.
Same factors will influence cost-per-install.
It's also smart to launch a "trial" campaign before engaging with Universal App Campaigns seriously. A "trial" campaign is a sample one launched with a low budget (about $100). It allows you to see how many actual installs the app will get, and to plan future realistic goals and budgets for the real Google app marketing campaigns.
After the budget and the CPI are clear, define the dates of the UAC and the location options.

So, exciting, right?😼 Click "Save and continue" and let the fun start!
Analysing Google UACs results
There is analytics to the Universal app campaigns. In the "Campaign" tab, chose the campaign and you will see all types of analytical data on how the things are going: conversions, installs, cost, and much more.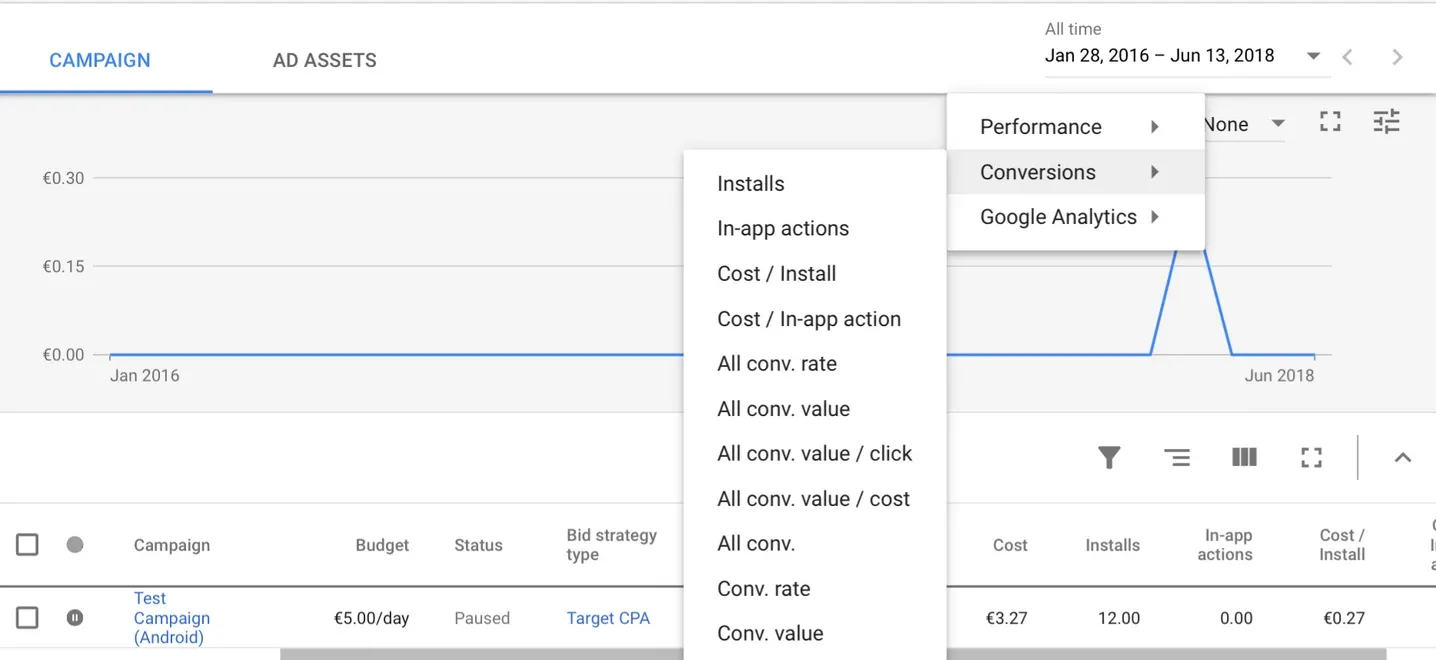 Click at "Ad assets" to get more detailed insights into how particular textual or visual elements of the campaign are working.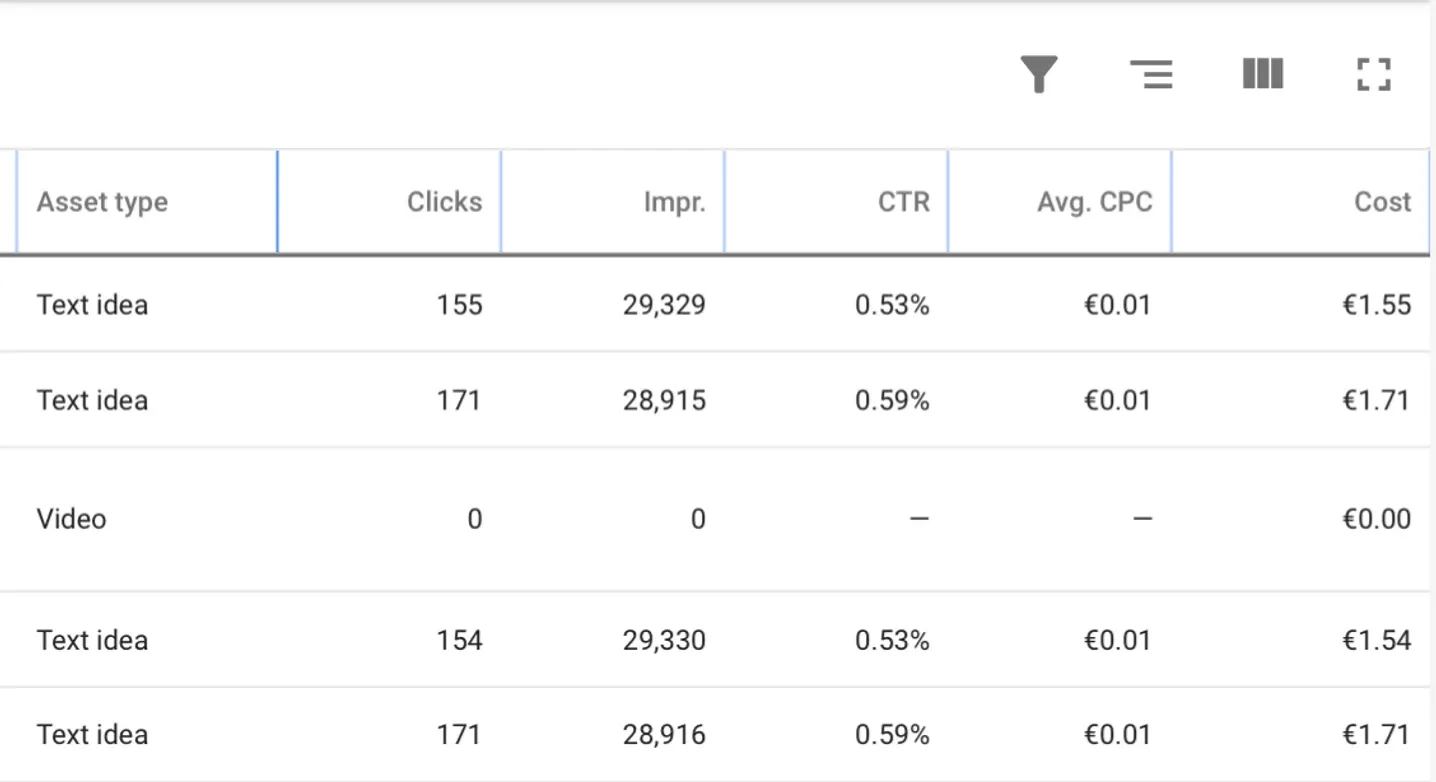 In order to analyze properly, you will need really clear campaign goals. Having launched a sample campaign with a tiny budget will help you define realistic expectations for Google app marketing with UAC and adjust the cost-per-install to maximize your campaign ROI.
All in all, Google Universal App Campaigns are there to save you time and money on getting more active audience for the app. Try it, you won't be disappointed😎